How to Style Men's Punk T-shirts for Music Festivals?
Consider incorporating men's punk t-shirts into your festival outfits if you are gearing up for a music festival and looking to inject some edgy style into your wardrobe. These versatile garments can be easily dressed up or down, making them ideal for festival wear. From punk band logos to bold graphics and eye-catching colors, punk t-shirts come in various styles to suit any taste.
 
So, whether you're a die-hard punk fan or simply want to add some rebellious flair to your festival look, read some advice on how to style men's punk t-shirts for music festivals. From choosing the right t-shirt to pairing it with complementary accessories, we'll explore the perfect rocker outfit guide in this blog post.
Why are Music Festivals So Popular?
Music festivals have become increasingly popular in recent years and for good reason. They offer a unique and unforgettable experience combining live music, entertainment, art, and culture in one vibrant and dynamic setting. These festivals feature a diverse and impressive lineup of artists, bands, and performers across various genres, making them appealing to a wide range of music fans. The chance to see multiple top artists and discover new talent all in one place is a major draw for festival-goers.
 
Music festivals also offer a lively and energetic atmosphere that's hard to replicate elsewhere. The sense of community, camaraderie, and shared passion for music creates a unique and exciting vibe that festival-goers can't get enough of. Meanwhile, attending a rock concert can be a welcome escape from the monotony of daily life, providing a chance to let loose, forget about responsibilities, and immerse oneself in music and culture for a few days. Overall, they offer a one-of-a-kind experience that combines music, community, and culture in a way that resonates with people of all ages and backgrounds.
Why is Men's Punk T-shirts Best for Music Festivals?
Choosing a men's punk T-shirt for a music festival is an excellent opportunity for your self-expression. These t-shirts often feature bold graphic designs and rock band logos that stand out in a crowd. These punk rock designs can add an edgy and rebellious vibe to your festival look.
 
Men's punk t-shirts can be ideal for any festival outfit. You can pair them with ripped or black skinny pants or layer them over a long-sleeve shirt. You can even accessorize them with denim jackets or canvas shoes for a touch of punk-inspired sophistication. Meanwhile, music festivals can be long and tiring, so wearing comfortable clothes is essential. Punk tees are typically made from soft, breathable, comfortable materials, even in hot and humid weather.
 
Grunge t-shirts are often affordable and accessible, making them an excellent option for festival-goers on a budget. You can find various options at reasonable prices, from 70s punk band tees to skeleton t-shirt designs. They are a perfect choice whether you're attending punk rock concerts or want to add an edgy flair to your festival look.
Different Designs of Men's Punk T-shirts for Music Festivals
Men's punk T-shirts
 have many designs that'll have you standing out in the mosh pit. From edgy
faux leather shirts
to daring mesh designs, these
tees
are perfect for making a bold statement and embracing the rock spirit. So, get ready to rock out and discover the ultimate tee for your festival wardrobe!  
1. Faux Leather T-shirts
Faux leather T-shirts are an excellent choice in the punk scene, giving an edgy and rebellious look. They often feature metal studs, patches, or chain details to enhance the punk aesthetic. These T-shirts are perfect for making a bold statement at a punk rock concert.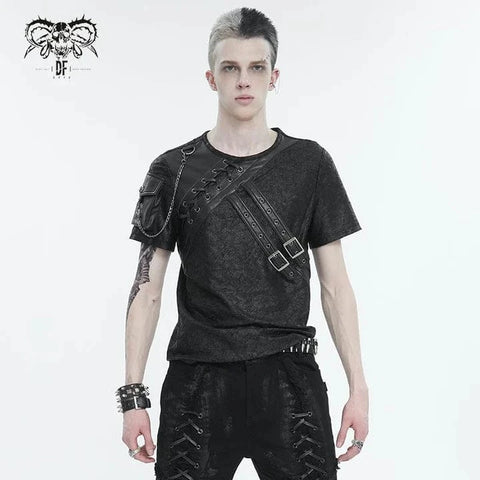 2. Mesh T-shirts
Mesh T-shirts are a daring and unique option for a punk festival. These shirts are made of see-through fabric, usually with a geometric pattern or design. They can be worn as a standalone piece or layered over another shirt for a more subdued look. This design offers breathability and style, making it ideal for a music festival.
3. Ripped T-shirts
A Ripped or distressed tee is a staple of punk fashion. These t-shirts are deliberately torn, frayed, or cut to create a worn and rugged appearance. Patches, safety pins, and metal can be added for a personalized touch. This design embodies the DIY spirit of punk culture and ensures you'll stand out in the festival crowd.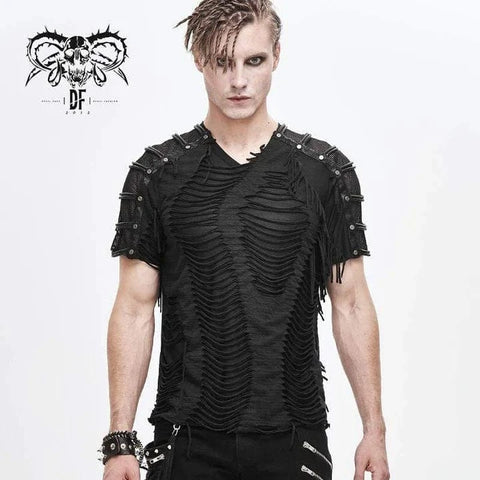 4. Hooded T-shirts
Hooded shirts blend casual comfort with punk design. These hoodies feature bold prints or graphics, like band logos or provocative slogans. The hood can be worn up or down, offering versatility and a unique look. This design is both practical and stylish for a music festival.

5. Band T-shirts
Band T-shirts are a popular form of clothing that allows music fans to express their love for rockers while also making a trendy statement. These grunge T-shirts often feature band logos, album artwork, or song titles. Some tees feature a vintage or distressed look, giving them a worn-in, retro feel. Others incorporate rock band graphics or typography to make a bold statement. Band shirts are a staple of music culture and a great way to show off your love for your favorite artists.

6. Tank Tops
If it's too hot or you want to show off your arm lines, tank tops are a nice choice for music festivals due to their lightweight and comfortable nature. Punk-inspired tank tops often feature patchwork, band logos, or distressed designs. They can also incorporate elements like mesh, studs, or safety pins. This design is perfect for staying cool and showing individuality in a festival setting.
How to Style Men's Punk T-shirts for Rock Music Festival? 
When styling men's punk T-shirts for a rock music festival, the key is combining comfort with attitude. Here are some ways to achieve a killer punk look.
1. Pair with Jackets or Vests
Select a jacket that complements your T-shirt's design and enhances the punk vibe. Opt for a classic faux leather jacket with studs or band pins. The combination of ripped tees with frayed edges, intentional tears, and studded jackets adds texture and visual interest to an outfit. The contrast between the rough, worn appearance of the tee and the shiny, metallic studs on the jacket creates a dynamic and eye-catching ensemble.

Feel free to mix textures, colors, and patterns to create a one-of-a-kind outfit. For example, choose a tie-dye T-shirt with buckle vests. Tie-dye T-shirts, with bright colors and psychedelic patterns, create a striking contrast when paired with distressed vests, which showcase a rough, worn, and edgy look. This combination highlights the eclectic nature of punk rock and adds visual interest to the clothes.

Embrace the punk spirit and make a lasting impression with this edgy, effortlessly cool T-shirt, leather jacket, or stand collar vest combo. As you rock out to your favorite bands, your carefully curated clothing combo will showcase your love for punk fashion and make a lasting impression on fellow festival-goers.
2. Pair with Jeans
T-shirts and jeans are a timeless combination that transcends fashion trends. When it comes to punk T-shirts with bold graphics, band logos, or edgy designs, pairing them with jeans creates a classic and effortless look that highlights the unique elements of the T-shirt while maintaining a casual vibe.
 
Punk jeans are known for their comfort and durability, making them a practical choice for music festivals where you may be standing, dancing, or walking for extended periods. When paired with a grunge tee, you get a comfortable outfit that can withstand the wear and tear of an energetic event.
 
Both punk T-shirts and jeans come in various designs, colors, and cuts, allowing endless possibilities. From slim-fit jeans to distressed or patchwork designs, you can mix and match different designs to create a personalized look that reflects your individual taste and love for rock music.

3. Pair with Shorts
If you want to stay cool in the crowds, men's mesh tank tops with shorts are perfect! Mesh tank tops are lightweight and breathable, making them ideal for hot or crowded environments like music festivals or concerts. When paired with punk shorts, you get a comfortable outfit that allows for freedom of movement and keeps you cool during warm weather or high-energy performances.
 
With their see-through and bold design, punk mesh tank tops match with shorts and create a casual and edgy look perfect for music festivals or warm weather gatherings. This combination embodies the rebellious spirit of punk rock while maintaining a laid-back vibe. You can experiment with different types of shorts, such as distressed denim, cargo, or patterned shorts, and accessorize with belts, chains, or other punk-inspired elements.
4. Pair with Kilts
For a genuinely unconventional punk style, pair your tank top with a skirt. Choose a traditional tartan or a solid-colored kilt, and accessorize with chains, studs, or leather belts for an extra punk flair. Complete the look with combat boots for a daring festival outfit that will turn heads.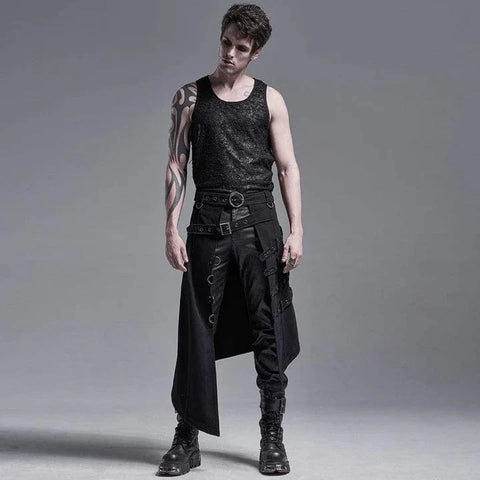 Please Don't Forget the Accessories
Adding the right
accessories
can take your
punk T-shirt
look to the next level. Here are some essential
accessories
when styling your outfit for
punk rock concerts
.  
1. Jewelry
Punk-inspired jewelry, like studded bracelets, skull rings, and chain necklaces, adds a touch of rebelliousness to your look. Don't be afraid to mix metals or layer multiple pieces for a more eclectic style.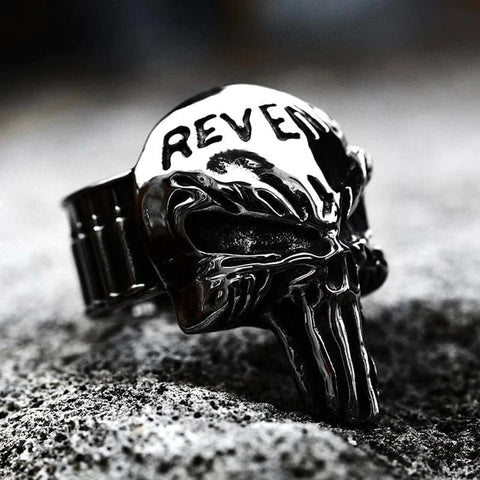 2. Ties or Hats
Incorporate 
ties
or
hats
into your dress for a functional and fashionable touch. Pair
a tie
 around your neck, or wear a beanie or flat-brimmed 
cap
to protect yourself from the sun while staying true to your punk aesthetic.
3. Mask
Mask with edgy frames or skull prints is an excellent choice to add a touch of attitude. Consider mirrored lenses or classic aviators to make a statement.

4. Belts and Harnesses
Studded or chain
belts
and
harnesses
can elevate your
punk T-shirt
outfit. Try wearing
a belt
with an oversized buckle or layering a pair of 
harnesses
over your
T-shirt
for a distinctive look.

5. Bags
Complete your punk ensemble with
a messenger bag
,
backpack
, or fanny pack adorned with patches, pins, or buttons. These practical
accessories
can hold your essentials while showcasing your favorite bands or slogans.
By pairing your grunge tee with a combination of these accessories, you'll create a cohesive and edgy look that's perfect for any rock music festival.
How to Choose A Suitable Men's Punk T-shirt?
Choosing a suitable men's punk T-shirt involves considering factors such as size and brand to ensure the perfect fit and style. Here are some tips to help you make the right choice.
1. Size
Know your measurements: Measure your chest, waist, and hips to ensure you select the correct size. Remember that brands may have different standards, so always refer to their specific chart.
 
Consider the fit: Punk T-shirts come in various fits, from slim to oversized. Determine which fit you prefer and how it will complement your overall style. A slim-fit T-shirt might look sleek, while a large or loose-fit T-shirt can offer a more relaxed and casual vibe.
 
Comfort is key: Since you'll likely be wearing your punk T-shirt at a music festival, ensure it's comfortable and allows you to move freely. Opt for a size that doesn't restrict your movement, and consider the fabric's breathability and stretch.
2. Brands
Research brands: Familiarize yourself with popular punk clothing brands such as Punk Rave, Devil Fashion, and Killstar. These brands often offer a wide range of punk-inspired T-shirts and may have the design and quality you want.
 
Punk Rave is a famous alternative fashion brand known for its unique blend of punk, gothic, and grunge. Many favorite stars wear their costumes for performances. Their designs often incorporate faux leather, studs, chains, and asymmetric cuts. Whether you're looking for a bold statement piece or a plus- size T-shirt, Punk Rave likely has something to suit your taste.
 
Devil Fashion is another alternative brand that offers a variety of punk, gothic, and rock-inspired clothing. Their men's T-shirts often feature distinctive designs with elements like skull prints, mesh panels, or lacing details—Devil Fashion's clothing ranges from more traditional punk styles to modern and avant-garde interpretations of the genre.
In conclusion, styling men's punk T-shirts for a music festival is about embracing individuality and showcasing your love for the genre. By experimenting with various outfit combinations, such as pairing T-shirts with coats, vests, jeans, shorts, or kilts and accessorizing with jewelry, hats, belts, and bags, you can create a distinctive look true to your personality and the punk spirit.
 
Ready to find the perfect punk T-shirt and accessories for your next festival? Please shop with PunkDesign.shop! Discover a wide range of punk and gothic clothing to suit your style. Sign in to our store to explore our high-quality products of alternatives designed to help you make a statement at any music event. Our site welcomes all punk enthusiasts and is committed to providing exceptional customer service and faster shipping. So, get ready to rock out and turn heads at your next concert with a killer punk-inspired outfit.