How to Wear Men's Punk Hoodies for Skate Punk?
Nothing says 'rebellious spirit' quite like punk fashion; one such iconic piece is the punk hoodie. Combining this with the energetic skate punk creates an edgy, unapologetic vibe that's hard to resist. Often, the trick is to balance the punk attitude with functionality because comfort and mobility are as important as looking rad when skateboarding. Men's punk hoodies are versatile garments that can transform your daily look into a skate-punk ensemble with a few well-thought-out touches.
 
In this blog post, we'll guide you through the art of wearing men's punk hoodies for a skate look. From choosing the right hoodie design to pairing it with the perfect accessories, we'll show you how to bring that rebellious skate-punk attitude to your wardrobe. Whether you're a seasoned skater, a punk rock enthusiast, or someone looking to experiment with a new aesthetic, this guide has covered you. So, let's dive into punk fashion and discover how to wear your punk hoodie with unabashed flair and conviction.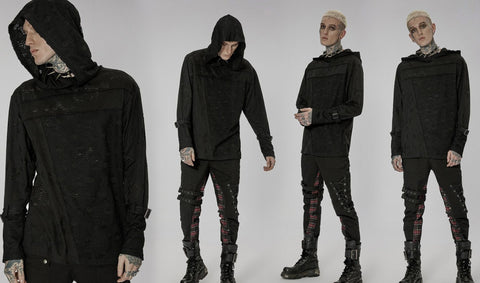 What is Skate Punk?
Skate punk culture emerged as a powerful, subversive force in the late 1980s, forever imprinting music, fashion, and lifestyle. Its high-energy, fast-paced sound characterizes it, combining punk rock's aggression and intensity with hardcore punk elements.
 
Skate punk originated from the skateboarding and punk rock cultures that intersected in Southern California. The music was closely associated with the skateboarding punk scene, and its lyrics often reflected the rebellious and anti-establishment attitudes prevalent in both subcultures. The genre's fast tempo and catchy melodies made it a perfect soundtrack for skateboarding and other extreme sports.
 
In fashion, skate punk style is synonymous with worn-in skate boots, black jeans, band tees, and the symbolic punk hoodie. Musically, it's typified by a fast, aggressive blend of punk rock and hardcore, with bands like NOFX, Bad Religion, and Pennywise at its helm.
 
This culture is more than just a genre of music or a style of dress; it's an attitude, a philosophy, and a way of life. It is about rejecting conformity and societal norms, defiantly anti-materialistic, and living on one's terms. It's about grit, freedom, and the relentless pursuit of individuality.
The Difference between Punk Hoodies and Other Styles of Hoodies
Punk hoodies, like other hoodies, are sweatshirts with a hood attached. The punk subculture values individuality and creativity, so there is room for personal interpretation and variation within the style. So, some distinctive features and characteristics set punk hoodies apart from other designs.
 
Punk hoodies often feature unique and bold designs. These hoodies often showcase aggressive or provocative graphics and prints. They may include skulls, motifs, band names, anti-establishment slogans, or symbols associated with rebellion and anarchy. The images on hoodies are typically loud, eye-catching, and meant to make a statement.
 
Punk hoodies often embrace the do-it-yourself ethos of pop-punk fashion. They may have hand-painted designs, patches sewn on by the wearer, or distressed elements created intentionally to give the hoodie a worn and personalized look. This customization aspect is less common in other designs of hoodies.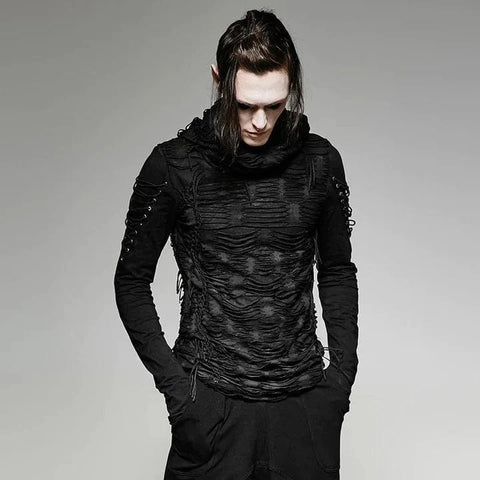 Choose A Suitable Men's Punk Hoodies
With countless options available, choosing the perfect
men's punk hoodie
can be daunting. Fear not, for we are here to guide you through the process. From considering the design elements to assessing the fabric quality, we'll explore the key factors that will help you make an informed decision.  
1. Material and Quality
Pay attention to the material of the hoodie. Look for high-quality fabrics that are durable and comfortable, such as cotton or a cotton blend. Check for well-constructed stitching and overall quality to ensure the hoodie will withstand regular wear and maintain its appearance.

2. Fit and Size
Choose a gothic hoodie that fits you well and matches your preferred style. Decide if you want a loose, baggy fit or a more fitted silhouette. Consider the length of the hoodie and whether you prefer a longer or shorter hemline. Check for features like a soft lining, adjustable hood, and ribbed cuffs and hem for a comfortable fit. Check the sizing chart provided by the brand to select the appropriate size for your body measurements.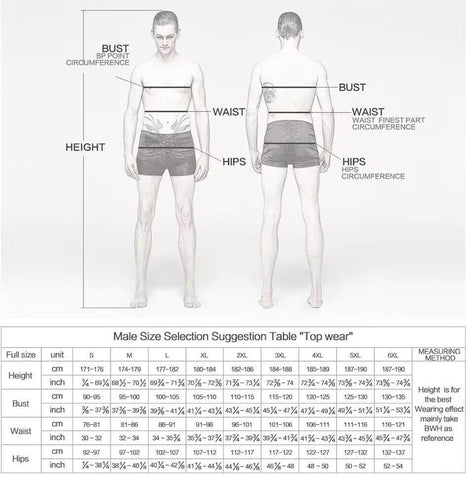 3. Details and Accent
Pay attention to the details and accents of the
hoodie
.
Punk hoodies
often include punk elements like distressed patches, safety pins, drawstrings, or extra pockets. Decide if you want these additional details and consider how they contribute to the overall style and functionality of the
hoodie
.   
4. Brand and Authenticity
Consider supporting punk bands or independent punk clothing brands when choosing a hoodie. Look for authentic band merchandise or brands that align with punk values and aesthetics. Research reputable brands, such as Punk Rave and Devil Fashion, are known for their quality and commitment to the punk subculture.

Considering these factors, you can choose a men's punk hoodie that suits your style, preferences, and values within the punk subculture.
Select A Coat with Men's Punk Hoodies
Skate punk fashion
is all about embracing a rebellious and energetic style that reflects the spirit of skateboarding. To complement your
men's punk hoodies
, here are some different
coat
options that will elevate your skate punk look:  
1. Faux Leather Jacket
Pair your punk hoodie with a classic black leather jacket. This combination exudes an edgy and tough vibe, perfect for the skate-punk style. Look for leather jackets with metal hardware and asymmetric zippers for a hardcore punk feel.

2. Denim Jacket
Opt for a distressed denim jacket to add a casual and rugged touch to your punk hoodie. The combination of denim and punk image creates a laid-back yet rebellious look. Experiment with different washes and patches to personalize your style.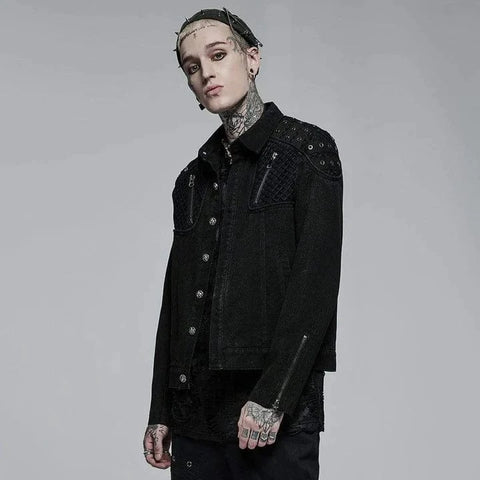 3. Long Irregular Coat
Layering a long, irregular coat with asymmetrical cuts, oversized collars, and unique details can bring a sense of drama and attitude to the outfit. The juxtaposition of a fitted or slim-fitting gothic hoodie with a long and flowing gothic coat creates a contrast in silhouettes. They enhance punk fashion's rebellious and non-conformist nature, making a bold statement and capturing attention.

Remember, the skate-punk style is all about self-expression. Feel free to mix and match different coats and punk hoodies to create a unique and personalized look that reflects your individuality on and off the skateboard.
How to Wear Men's Punk Hoodies with Pants?
When choosing
men's punk hoodies
with different pants for 
skate-punk
fashion, it's essential to consider the overall style, comfort, and versatility.   
1. Skinny Jeans
Skinny jeans, fitted and tapered silhouettes contrast the loose and oversized nature of plus-size punk hoodies. This creates a balanced and proportionate outfit that flatters the body shape. Combining a form-fitting bottom like skinny pants with a relaxed top like a plus-size hoodie showcases different styles and proportions, contributing to the distinctive skate-punk aesthetic and well-balanced ensemble.
 
Punk hoodies often feature bold graphics, unique prints, or intricate designs. Pairing them with slim-fit jeans allows the hoodie to take center stage and be the outfit's focal point. The streamlined silhouette of skinny jeans helps draw attention to the hoodie's details, making a solid statement in skate-punk fashion.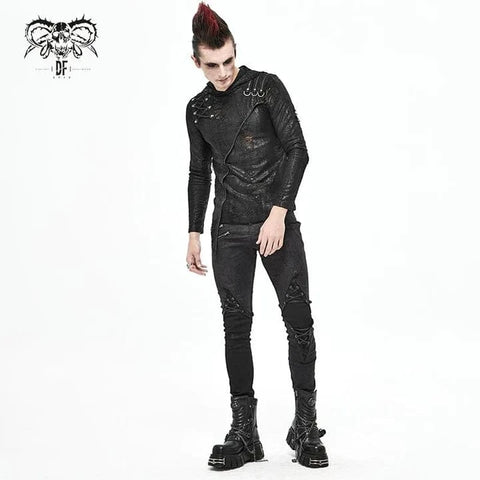 2. Straight-Distressed Pants
Straight distressed pants are versatile and can be paired with various hoodies, including ripped hoodies. Straight jeans offer a looser fit than skinny jeans, allowing for a more relaxed and comfortable style. This balance in proportions complements skate punk fashion's casual and laid-back vibe.
 
The distressed and ripped jeans and hoodie elements create a cohesive aesthetic. The raw and worn-in look of torn pants aligns with punk fashion and edgy nature. The combination exudes a sense of lived-in authenticity and adds visual interest to the overall outfit when paired with a ripped hoodie.

3. Faux Leather Pants
Pair your punk hoodie with faux leather pants and studded belts for a more daring and bold look. The contrast between the hoodie's texture and the trousers' sleekness creates an eye-catching outfit. Faux leather pants add an edgy and rock-inspired element to your skate-punk style. Finish off the look with combat boots or high-top sneakers to enhance the pop-punk aesthetic.

4. Jogger Pants
Skateboarding requires freedom of movement, and jogger pants provide just that. Their relaxed fit and elasticized cuffs offer comfort and flexibility, allowing easy skateboard movement. Skate punk fashion values style and functionality, and jogger pants strike a balance between the two.
 
Combining jogger pants and punk hoodies creates a modern and contemporary aesthetic that resonates with the skate-punk subculture. Mix and match them with different grunge hoodies to create unique and personalized skate-punk ensembles.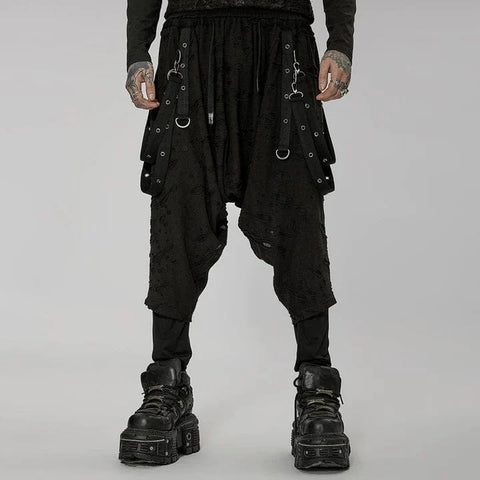 Feel free to experiment with different combinations, mix and match styles, and add your
unique accessories
to create a 
skate-punk
look that truly reflects your style and attitude.  
Footwear Matters
Footwear
plays a crucial role in completing
skate punk
. Experiment with different footwear choices to find the ones that resonate with your style and enhance your overall look.  
1. Martin Boots
With its rugged construction and chunky design, Martin boots perfectly match punk hoodies. These leather boots provide durability, ankle support, and a rebellious edge. Opt for black leather or vegan alternatives for a classic British punk. The sturdy soles and lace-up style make them suitable for skateboarding, adding a bold and edgy touch to your overall look.

2. Ankle Boots
Ankle boots offer a versatile and stylish option for skater styles. Look for boots with sturdy construction, such as leather or suede. They provide ankle stability and a sleeker silhouette compared to clunky boots. Pair them with slim-fitting trousers or ripped jeans for a refined yet rebellious look.

3. Skateboard Shoes
For the most authentic skate-punk style, consider wearing skateboard-specific shoes. These shoes are designed for skateboarding, offering features like reinforced toe caps and grippy soles. Skateboard shoes come in various types, from classic canvas sneakers to technical skate shoes with advanced cushioning and impact protection. They provide both functionality and a nod to the skateboarding subculture.
 
When choosing footwear for skate punk, prioritize comfort, durability, and style. Look for options that allow you to perform well on a skateboard while reflecting punk culture's rebellious and individualistic spirit.
Add Some Accessories with Men's Punk Hoodies
Incorporating
accessories
is critical to completing your stake look and adding flair. Here are some
alternative accessories
options when styling
men's punk hoodies
for 
skate punk
.  
1. Caps
A cap
 is a versatile accessory that adds a touch of urban streetwear to your outfit. Opt for a snapback or
fitted cap
with grunge graphics or band logos. It adds a casual yet edgy element to your 
skate-punk
ensemble while providing some protection from the sun.

2. Rings
Rings are an excellent way to showcase your style and express your individuality. Look for bold, chunky rings with punk motifs like skulls, spikes, or symbols. Mix and match different rings with punk hoodies on multiple fingers for a statement-making look.

3. Necklaces
A gothic necklace can be a subtle yet impactful jewelry to complement your punk hoodie. Choose a pendant necklace with punk-inspired elements like spikes, chains, or crosses. It adds a layer of personal style and serves as a conversation starter.

4. Harnesses
Harnesses are a bold accessory that adds an alternative and rebellious touch to your skate-punk outfit. Whether a chest, shoulder, or body harness can instantly elevate your look and make a strong statement. Pair them with a gothic hoodie for an edgy and unconventional appearance.

5. Bracelets
Stack up bracelets on your wrists for a punk-inspired look. Choose leather cuffs, studded wristbands, or chains to achieve the desired punk aesthetic. Mix different materials and textures for a layered and textured effect.

Accessories
are meant to enhance your style and reflect your individuality. Experiment with combinations and find the
punk accessories
that resonate with your
skate punk
sense. 
In conclusion, wearing
men's punk hoodies
for 
skate punk
allows you to embrace your rebellious spirit and showcase your style on and off the skateboard. By carefully selecting the
right hoodies
, pairing them with suitable
coats
, choosing
black pants
and
combat boots
, and adding personalized
accessories
, such as
studded wristbands
, you can create a skate-punk look that truly represents who you are.  
If you're ready to upgrade your wardrobe, we invite you to explore
our online store
. From
punk
and
gothic
to a wide range of different fashion styles, we have everything you need to achieve your desired 
skate-punk
aesthetic.  
Simply
login to
our website
, browse our collection, add your favorite items to your cart, and take advantage of our lower shipping fees to deliver them to your doorstep. We also offer a customer-friendly return policy, ensuring you can shop confidently. We hope you will find your favorite clothing!