How to Choose Men's Punk Shirts for Punk Rock Concerts?
Men's punk shirts are an integral part of punk clothing, and choosing the right one can make your overall appearance a difference in punk rock concerts. From leather jackets to metal shirts, punk fashion has always been about standing out and pushing boundaries. One essential piece of punk rock attire is a punk shirt.
 
In this blog, we'll explore the perfect rocker outfit guide when selecting a men's punk shirt for a punk rock concert. We will discuss the importance of brands, design, size, and fabric and provide tips on balancing comfort and style. Whether you are a seasoned rock enthusiast or a newcomer, this blog will provide the information you need to choose the perfect shirt for your next concert.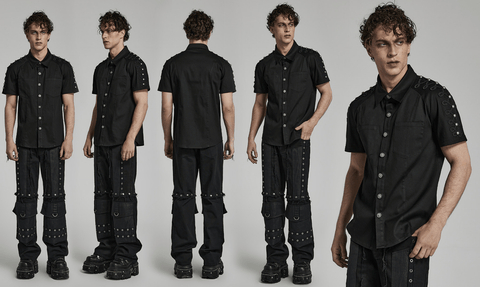 Punk Rock Concerts Themes
Punk rock concerts are known for their energetic, rebellious, and anti-establishment themes that have captivated audiences for decades. Punk concerts are all about breaking the rules and defying the norms. These shows are known for their raw, unfiltered sound and in-your-face attitude. They are a platform for musicians to express themselves freely and for fans to let loose and immerse themselves in the music.
 
One of the critical themes in punk rock concerts is rebellion. The movement has constantly challenged authority and fought against the status quo. Another central theme in the punk concert is individualism. The punk rock movement has always celebrated individuality and self-expression. These concerts are where people can unite and embrace their differences, celebrating their unique identities without fear of judgment.
 
Punk rock concerts are also known for their DIY (do-it-yourself) ethos. Many bands performing at these shows are independent, self-funded, and self-promoted. These concerts are often held in small venues, underground clubs, and community spaces and are organized by local promoters and musicians. Overall, punk band concerts offer a platform for musicians and fans to express themselves freely and to connect with like-minded individuals who share their passion for music and rebellion.
How to Choose Men's Punk Shirts Brands?
Punk style has been a popular subculture for several decades, with punk shirts being a movement staple. If you want to buy a new shirt, you may wonder how to choose the right brand. Here are some tips to help you make an informed decision.
 
Firstly, consider your budget. If you want to buy affordable and good-quality dark shirts, please check out Punk Rave and Devil Fashion, known for their high-quality materials and attention to detail. They can be purchased on their official website or at punkdesign.shop. Therefore, it's essential to determine your budget before you start shopping.
 
Secondly, think about your style. Different brands may specialize in aesthetics, so finding one that aligns with your style is crucial.
Thirdly, check out customer reviews. Reviews from other customers can give you a good idea of a brand's quality and reputation. Look for reviews that mention the shirts' fit, comfort, and durability.
 
Lastly, consider supporting well-known and sustainable brands. If you're concerned about the impact of your fashion choices, some punk shirt brands, such as Killstar and Punk Rave, prioritize ethical and sustainable practices.
 
By researching and finding a brand that aligns with your style, budget, and values, you can choose a men's punk shirt that makes a bold statement and fits your unique style.
What Designs of Men's Punk Shirt is Good for Punk Rock Concerts?
Punk rock concerts
are all about making a statement; what kind of
punk shirts
you wear to these shows is a big part. These shirts come in various designs and materials, each with a unique style and appeal. Next, we will explore some of the best designs of 
alternative shirts
for concerts.  
Distressed Shirts
Distressed shirts
are a classic staple of
punk style
. These
shirts
have a torn and sometimes even ripped look, which gives them a rebellious and edgy vibe. They are perfect for
punk rock concerts
because they are comfortable, versatile, and can be paired with almost anything. Whether wearing
grey jeans
or
ripped shorts
,
a distressed shirt
will make a statement.  
Faux Leather Shirts
Another excellent option for concerts is faux leather shirts. These shirts look and feel like natural leather, but they're much more affordable and accessible. They are typically made with metal chains attached to the shirt, giving them a unique look. Paired with denim or leather pants, faux leather shirts can create an edgy and fashion-forward standout look.
Mesh Shirts
Punk mesh shirts
are another popular choice for fans. These shirts are often made of fishnet or mesh material, allowing air to circulate and stay cool at concerts. They can be worn over
t-shirts
,
tank tops
, or even by themselves, depending on your comfort level.
Mesh shirts
are perfect for guys who want to show off their tattoos or other body modifications.  
Hooded Shirts
A hooded shirt can be an excellent choice for those attending a concert. This versatile clothing can be paired with black jeans and combat rocker boots to create a classic punk-style look.
 
Ultimately, the key to choosing a men's punk shirt for a punk rock concert is to go for something bold and authentic. Whether you opt for a classic faux leather shirt or something more DIY, wearing a punk shirt is a great way to show your love for the music and connect with other fans.
How to Choose A Suitable Size for Men's Punk Shirts?
Choosing the right size for
men's punk shirts
is the most important, as the fit and sizing can vary between brands and styles. Consider these recommendations to assist you in selecting an appropriate size.  
Measure your height and weight: Knowing your height and weight can help you determine which size to choose. Most brands, like
Punk Rave
, will have a size chart that lists the recommended size based on height and weight.  
Use the size chart: Always check the size chart provided by the brand before making a purchase. The size chart will usually provide measurements for the shirt's length, bust, shoulder, and other key areas. The following is the size comparison table of the
Punk Rave
brand for your reference. Compare your measurements to the size chart to determine your best size.

Consider the fit: Different styles of punk shirts may have different fits. Some may be more fitted, while others may be looser. Look at the product description or reviews to get an idea of the shirt's fit.
 
Measure a shirt you already own: If you have a shirt that fits you well, you can measure it and compare the measurements to the size chart of the dark shirt you're considering. This can give you a better idea of how the shirt will fit.
 
By considering your height, weight, and measurements, using the size chart provided by the brand, and checking the fit and length of the shirt, you can choose a suitable size for men's punk shirts that will fit you well and look great.
Choose a Comfortable Fabric for Men's Punk Shirts
Punk shirts
are known for their unique designs and bold graphics, but comfort is just as important when choosing the fabric for
shirts
. There are some comfortable fabrics to consider.  
Cotton: Cotton is a popular fabric choice for
men's punk shirts
because it's breathable, soft, and easy to care for. Look for shirts made from 100% cotton or a blend with cotton for added comfort.  
Mesh: Mesh fabric is highly breathable, allowing air to circulate through the material, making it more comfortable to wear in warm weather. The distinctive look of mesh fabric can accentuate the aesthetic of
punk style
. The mesh is durable and can withstand wear and tear, making it a good choice for
punk clothing
that is meant to be worn regularly.

Faux leather: Faux leather is easier to maintain and care for, as it doesn't require conditioning and is less prone to damage. Finally, faux leather can be dyed in various colors and patterns, creating more customizable pop-punk designs.
 
When choosing a comfortable fabric for men's punk shirts, it's important to consider comfort and sustainability. By choosing fabrics like cotton, organic cotton, bamboo, modal, and hemp, you can ensure your shirt is comfortable and environmentally friendly.
 
After you have chosen a suitable shirt, the next step is to match it with the right accessories and punk clothing to complete the fashion look. Let's explore how to style punk shirts for the music festival!
How to Style Men's Punk Shirts for Punk Rock Concerts?
Punk shirts
 embody the rebellious spirit of the music. Here are some tips on styling them for punk band concerts.  
1. Pair with Punk Jackets
A classic punk denim jacket is a versatile and iconic fashion item that can go well with any ripped shirt. It's perfect for a casual and comfortable look. Secondly, a leather jacket is a staple of punk fashion that adds an element of toughness to any outfit. It pairs well with graphic tees and band shirts for a classic look.
 
A bomber jacket is also a stylish and functional option for dress punk. It pairs well with hooded shirts featuring bold graphics and designs. The last choice is a hooded jacket. Such as a hoodie or a parka can be a comfortable and practical option for a punk rock concert. It pairs well with round-neck shirts and causal jeans for a casual look.
 
When pairing men's punk shirts with jackets, it's essential to consider the style and fit of both items. Opt for jackets that complement the design and color of the shirt, and choose a fit that allows for comfortable movement and layering. You can create an eye-catching outfit perfect for any concert with the right combination of clothing items.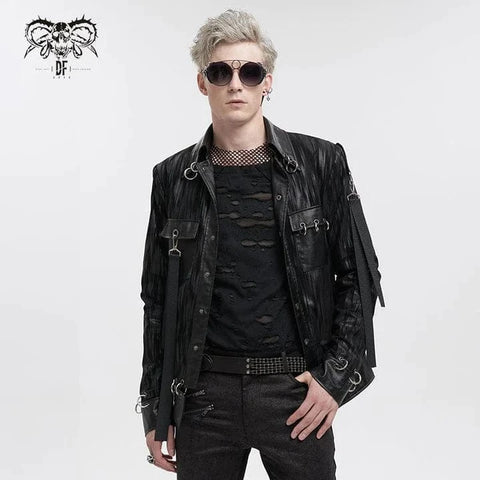 2. Pair with Jeans
Distressed Shirts with ripped jeans
These two wardrobe staples will give you a grunge and punk look perfect for the concert scene. Distressed shirts, with their torn and frayed edges, add a touch of edginess to any outfit. Pair them with ripped jeans for a rebellious look. The combination is perfect for headbanging and moshing in the pit.
 
Hooded shirts with straight-leg jeans
If you're heading to a punk concert, you'll want to dress more casually. Hooded shirts paired with straight-leg pants can be the perfect combination. The hooded shirt adds a casual rebellious touch, while the straight jeans give you a sleek outfit.
 
Mesh shirts with skinny jeans
Pair a mesh shirt with distressed skinny jeans for a bold and rebellious look. Mesh shirts are perfect for concerts, allowing you to show off your tattoos while keeping you cool in the crowd. The jeans complete the look by adding a sleek and streamlined silhouette. Get ready to rock the night away in style with this daring and edgy ensemble.

Mixing and matching different men's punk shirts with varying designs of jeans, you can create unique and personalized outfits that reflect your style. Feel free to experiment with different colors, fits, and designs to create a pop-punk look that's all your own.
3. Essential Accessories with Men's Punk Shirts
Punk fashion is all about being rebellious. Remember, unique accessories can help you achieve the look. Here are some essential accessories to wear with men's punk shirts.
 
Rings: Skull rings are an excellent jewelry in punk concerts. Wear them on multiple fingers for a bold and edgy look.
 
Belts: Bullet or studded belts are a great way to add some edge to your outfit. They can be worn with jeans or over a shirt for a more layered look.
 
Boots: Combat boots and other punk boots are great footwear options for punk fashion. They're comfortable and durable and add a sense of rebellion to any outfit.
 
Necklaces: Chunky necklaces popular in punk concerts tonight. They can be dressed alone or layered for a more dramatic effect.
 

Adding accessories to your outfit creates an edgy, rebellious, and unique punk look. Don't be afraid to match different jewelry to create a personalized look that reflects your style.
 
While there are many ways to choose men's punk shirts for punk rock concerts, finding a style that reflects your taste is necessary. Whether you prefer punk band shirts with bold designs or unique DIY shirts, there's a punk shirt for everyone.
 
If you want to expand your punk and gothic clothing, welcome to check out our store. We offer a wide selection of shirts, vests, and other alternative clothing perfect for punk rock concerts and other events. Our products are made with quality materials and come in various sizes and styles to suit everyone. With our commitment to customer satisfaction and high-quality products, we're confident you'll find something you love at our store.