A top that exposes the waist, abdomen, or navel is known as a crop top, which is also known as a half shirt, midriff top, or cropped shirt. This may be traced back to the 1940s when people came up with crop tops to save material during the war effort.
These shirts became a chic fashion statement and a classic summer style, especially with high-waisted skirts or slacks. In recent years, crop tops have become a popular fashion choice. In the modern world, everyone wants to appear fashionable and hip, but we only have a little spare time to devote to our appearance.
Styling Tips of Crop Top
It is now much more straightforward for women to appear stylish and put together an outfit in a matter of moments, thanks to the popularity of crop tops, which have found a place in every woman's closet and heart. Have a look at different tips for styling with crop tops.
Make a Button-Down Crop Top
Create a crop top with a button-down shirt by tugging it at the sides and tying it in a delicate knot over your tummy to reveal your belly button. This will allow you to avoid cutting up any of your t-shirts.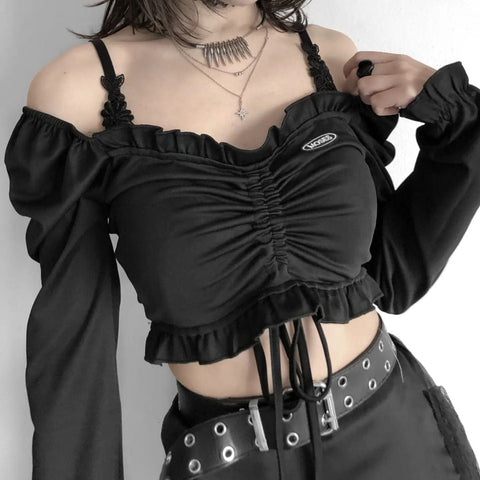 T27782
Experiment With Length
Crop tops are flattering on all different kinds of bodies, from thin and lean to full and curvy. If you can't find a shirt length that you like, all you need is a pair of scissors, some creativity, and some ingenuity to transform any shirt into a crop top. This can be done with a cardigan, tee, v-neck, or any other type of shirt.
Minimize Skin Exposure
Try wearing overalls or high-waisted pants with a crop top if you don't want to reveal as much flesh but still want your outfit to have a vintage or country vibe.
Add Ruffles or Tattered Edges
The patterns on crop tops may be whimsical. You may accessorize your crop top with ruffled shoulders or short sleeves or add some frayed edges at the bottom by snipping a half-inch up at the hemline all around your shirt. This will give your top some frayed edges.
Paired With a Crop Shirt And Pants
Matching with jeans is one of the possibilities that is the least complicated, the most comfortable, and the most stylish. You may get an elegant style by selecting knitted crop tops or long-sleeved versions.
Paired With Skirts
It is recommended that crop tops be paired with skirts such as circle skirts, bandage skirts, denim skirts, maxi skirts, and midi skirts. Crop tops are versatile. If you add a bit of glitz to your look, choose either miniskirts, fitting short pencil skirts, or long skirts with slits. 
Miniskirts are the easiest way to achieve this look. Or, an even better option would be to go for a top-to-bottom coordinating appearance by wearing a cropped cut shirt and a skirt with similar motifs.
Paired With Palazzo Pants And Trousers
It is totally on trend to wear crop tops with high-waist trousers, palazzo pants, and even flannels. You have the option of wearing crop tops that are plain by selecting solid, patterned, or vibrant colors to match them.
Crop Top With a Formal Look
Why not add a little twist to that dull old formal clothing to put some enthusiasm and vitality into it? Regarding formal attire, crop tops may be a tremendous asset.
Swap the shirt you typically wear with your standard traditional dress for a crop top. You only need some chic layers, some shoes, and a jacket to be set to conquer the day.
Paired Ethnic Skirt
Since you'll be wearing crop tops, you won't need to worry about investing in pricey blouses anymore. To achieve that flawlessly ethnic style, you must buy a blouse with embroidered or beaded details and wear it with a lehenga.
You are more likely to see brides and bridal party members these days donning crop tops as opposed to the traditional lehenga blouses.
Paired With Shorts
You may get a fun and flirty style by wearing shorts and crop tops together. It is an excellent choice for the warm weather season or a day spent at the beach.
And if you are searching for a stylish ensemble, try pairing fitted shorts with crop tops in a ruffled or peplum design. To round off the appearance, accessorize with jewelry that makes a statement.
Paired With Blazers
There are many other ways to give your crop tops personality, such as layering them with a shirt with a checkered or plaid pattern on top of a basic crop top or wearing them with floral or patterned blazers, jackets, shrugs, or long coats. These are just a few examples.
Grunge style
Are you looking for grunge crop tops? Women's grunge crop tops, women's t-shirts, and women's fashion tops for girls.
T-shirt for women with a round neckline and embroidery of a diamond and a resin flower on the chest, styled with grunge crop tops and a loose fit. This is a shirt in a casual design that younger girls who enjoy being active can wear.
A shirt with long sleeves and a relaxed fit for women will help you exude an air of sophistication and allure—tops for new ladies inspired by the past. The comfortable shirts are cozy, supple, and flexible in their construction.
Punk crop top style
Are you looking for a feminine punk style? Try on several crop shirts with a punk vibe. You may choose the perfect edgy dress to fit your style by looking through our extensive selection of solid, rich color and exciting pattern options.
Dress a punk dress up by pairing it with a leather jacket and heels or dress by pairing it with combat boots and a cardigan with a loose fit. Everyone should have at least one punk crop top in their closet for those lazy days when they want to stay in bed.
These tops are comfy and can be worn with almost anything. Put the finishing touches to your outfit by donning faded jeans, a sweatshirt with embellishments or a pattern, and either combat boots or sneakers.
Goth style
The term "Gothic fashion" refers to a specific type of clothing characterized by gloomy, mysterious, archaic, uniform, and frequently genderless qualities. Members of the Goth subculture are the ones that wear this.
Goth crop tops and bottoms are one of the styles that are worn the most frequently. Keep an eye out for goth crop tops with rips or tears along the body or frayed edges.
Think about accessorizing your damaged denim jeans with studded bracelets, a black T-shirt, and combat boots. For an even more gothic effect, pair your damaged bottoms with fishnets and wear them beneath.
This may be traced back to the 1940s when people came up with crop tops to save fabric during the war effort. Over time, crop tops evolved into a chic fashion statement and a classic summer style, especially when worn with high-waisted skirts or slacks.
The most flattering shirts are crop tops. They direct a person's attention to the middle of a woman's rib cage, which is the portion of her body that is the leanest.
How can I make my crop top wearable?
Wear it with a pair of high-waisted pants if you're a bit self-conscious about showing off your torso when you're wearing it.
When worn over another shirt, a crop top can be worn without giving the impression that it is too risqué to be worn in public. Consider this the ingenious solution to the problem of wearing anything that is cropped at the office.
Should crop tops have a relaxed or a tight fit?
Crop tops with more room to move around are often more comfortable, but which one you choose to wear relies not only on the lid itself but also on the bottom you pair it with. The more snug the top of your garment is, the more relaxed the bottom should ideally be.
Who shouldn't be seen in public wearing a crop top?
Avoid wearing crop tops if you're the type of person who feels self-conscious in a bikini. You need to be confident to pull off a crop top, but what's more vital is that you need a trim and fit figure if you should be wearing something other than a swimsuit made up of two pieces, then not wearing a crop top.
Does wearing a crop top make you taller?
When you dress to look taller and slimmer, the most important thing is to make your legs longer than they are and to give the impression that your upper body is relatively small.
Therefore, crop tops and jackets with shorter arms will be a tremendous asset. This does not imply that you should expose any part of your stomach (totally your call).
Crop tops are now in every woman's collection, making it easier for them to look attractive and put together an outfit quickly.