Five Popular Elements That All Goth Clothing Girls love!
I have been visiting
goth fashion websites
and ins for the past two days. And I suddenly found that the fashion trends of this spring seem to be a bit picky.
Ports has a bunch of new Roman shoes with a bunch of corset
skirts
.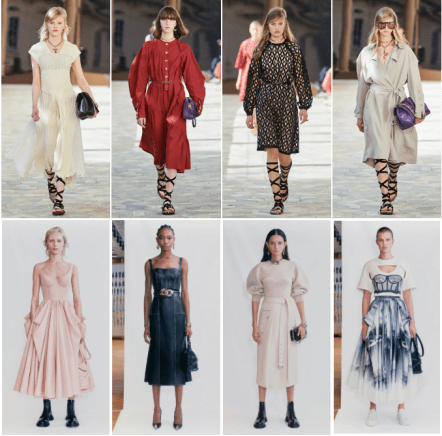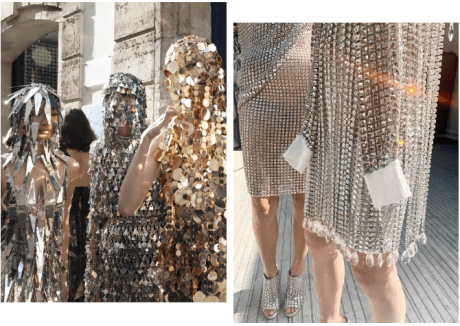 The most exaggerated is the large area of pearls. In South Korea's song troupe, both boys and girls use pearls as
accessories
.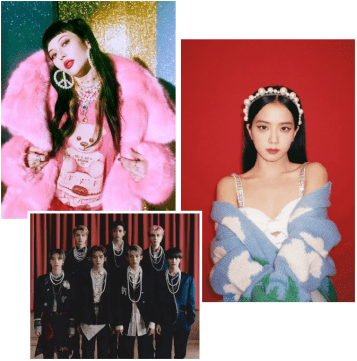 I thought that these clothes and accessories were more inclined to the visual marketing of the brand, but I found that there are many people who wear them in life.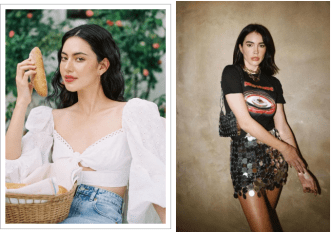 Every time I write an article about fashion trends, there will always be readers who find it impractical and not daily enough. But in fact, sharing trends is to let us see more possibilities. Always pursuing practicality inevitably lacks a bit of fun.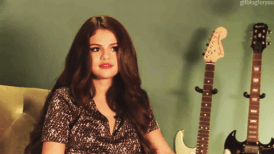 What's more, we can find a way that suits us by changing a lot of popular trends.
So, since it's getting warmer soon, let's take a look at these popular spring fashion trends and how to wear them?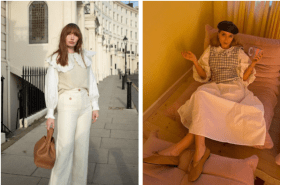 1/ Doll collar
Degree of Difficulty:★
Do you remember that
doll collar
was popular last year? It is still very popular this spring! British blogger Sara Louise Thomas bought a Cnstnce doll-collar plaid shirt and posted a series of pictures to show how versatile it is.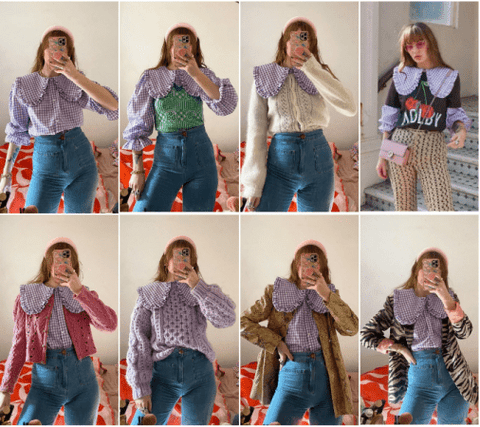 When the doll collar first came out last year, many people thought it was a bit picky, or too naive. This year I found that the acceptance of this dress is getting higher and higher.
Whether it is Alyssa who has always been a genie and playful style, or Sabina who is lazy and sexy, they are all wearing doll collars.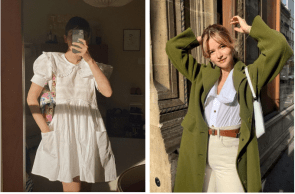 Linda Tol, a Dutch stylist who has always been in a cool style, has also begun to wear it.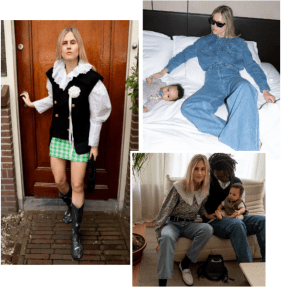 What is the difference from last year? I think the doll collar has been spread more widely this year. For example, compared with the white styles that were common last year, this year there are a lot of small flowers which has a rustic
retro style
.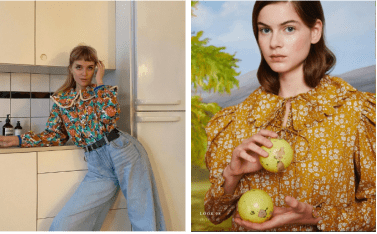 The two pieces worn by New Zealand blogger Jessie Bush are from her collaboration brand KITRI.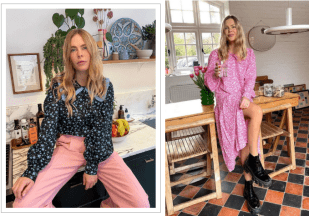 There are also various plaid patterns, which are also full of pastoral feeling. Especially when going out for spring and picnic, it should be very suitable to wear.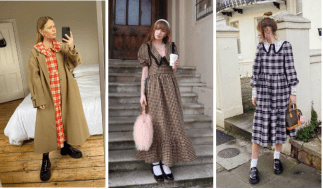 In addition to patterns, designs have also become more diverse. There are doll collars in shirts,
dresses
, and even sweaters.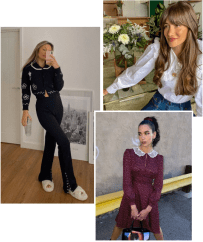 Even the designs of collars have changed. Pointed collar, round collar, multi-layer collar angle, lace collar, lace collar...... It can be considered that this element is changing in order to adapt to different face shapes.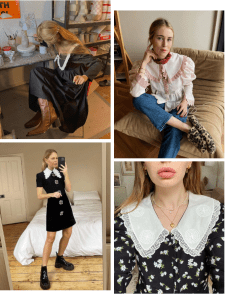 For a cute round face, you can choose a rounded large collar type. For mature square faces and long faces, you can choose a medium collar with a simple design. You can always find a collar that suits you.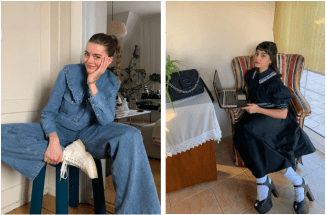 If you're not sure, just follow the example of British blogger Sara Louise Thomas and buy a bunch of
fake collars
. With or without collar, it's all up to you.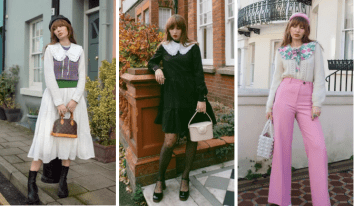 - Item Recommend -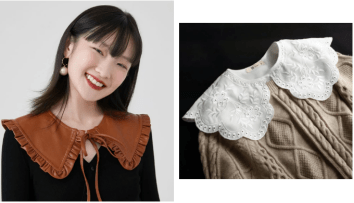 In terms of collocation, bloggers have changed their minds this year. Alyssa prefers to match dresses with doll collar shirts, she has a strong girlish style.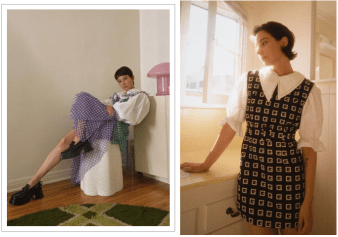 Doll collar can be used to wear sweaters in cold weather.
I mainly recommend two types of sweaters, one is dark, minimalist sweaters. With a doll collar, there is a collision of old antique and girly, the contrast is very special.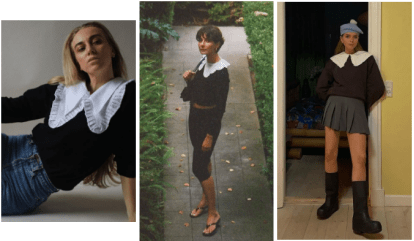 The other kind is to implement cute style.
Like the cartoon sweater worn by the Australian blogger Maxine Wylde, or the brightly colored sweater worn by the Danish blogger Marie Jedig, it looks great with a
doll collar shirt
. They all make people look young.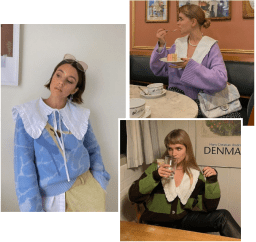 In addition to sweaters, you can also wear a vest, which is also a set that bloggers love to wear this year.
The choice of vest is similar to the sweater we mentioned before. It can be a dark and simple style to create a sense of contrast; it can also be a colorful and cute style to create an age-reducing effect.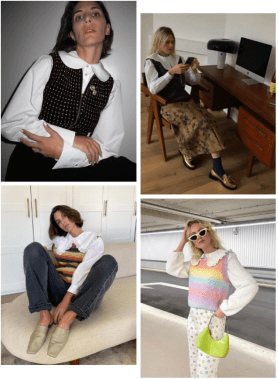 - Item Recommend -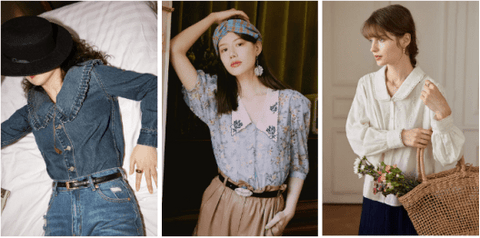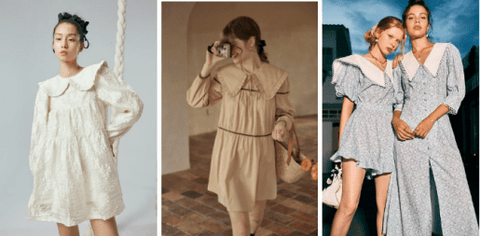 2/ bling bling
Degree of Difficulty:★★
As mentioned at the beginning of the article, the shiny sequin elements are also very popular this year. Sequined gloves appeared in the magazine. The following two pictures are from the cover of the March issue of the Portuguese version of "VOGUE" and the latest blockbuster "GRAZIA" by Chinese actress Yang Mi.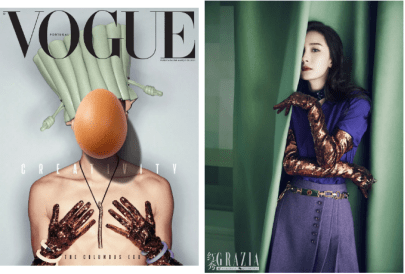 There are too many brands have launched shiny items this year. The big winner must be Paco Rabanne, who is famous for making sequins. Their sequined skirt won a big hit on ins.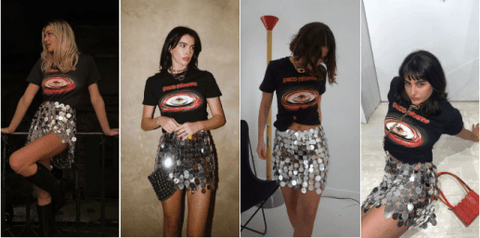 Alyssa also put on her sequined blouse which is more attractive, and matched it with a more bold big gold chain. Most people don't dare to try it casually.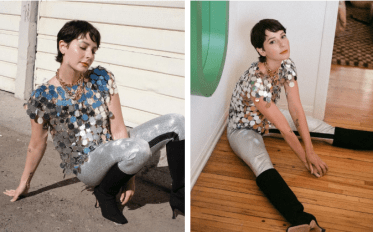 There are such large areas of bling bling in China, but they are basically on the stage or on the red carpet. This is Chinese female stars Jike Junyi and Wang Ou. They look beautiful, but the clothes are not suitable for daily life.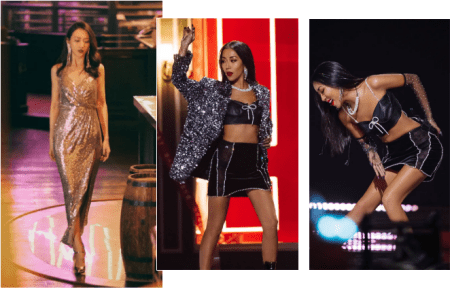 But I only rated the difficulty of this sequin element with two stars, because it is very nice as long as the exposed area is reduced. For example, as a shoulder strap embellishment of a beautiful dress, or a mini tube top. The following two pieces are from New York brand AREA and Copenhagen brand NUÉ.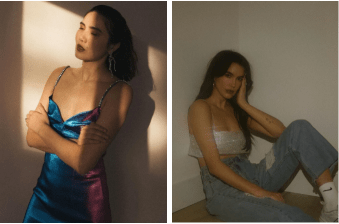 NUÉ has many such shiny items this year, and they are basically small ones. This sling is very popular on ins. It comes in a variety of colors and looks good when worn alone or stacked.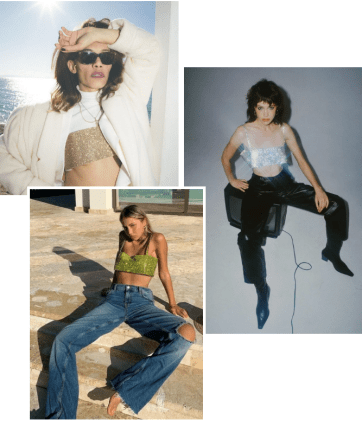 -
Item Reco
mm
end
 -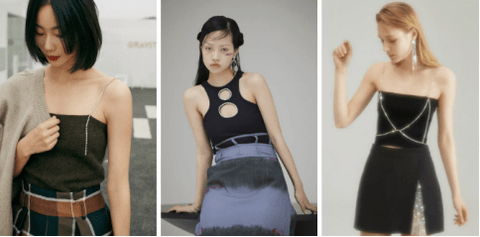 Sequins will be better to handle if used as accessories, such as shoes and bags.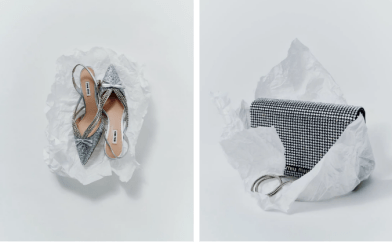 British stylist Bettina Looney recently released three bags in succession. They are from Chanel, CULT GAIA and Marina Raphael.
Paco Rabanne's sequin series looks better. Especially the small size, whether you wear a dress or a casual look, it will be very eye-catching.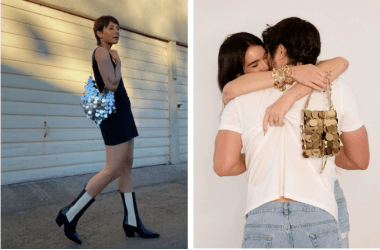 There are even more brands of sequin-style shoes! Yang Mi wore a pair of shiny bow-tie high heels in "GRAZIA", which are similar to those on the feet of Finnish blogger Sandra Hagelstam. The latter shoes are from Georgian brand Mach & Mach.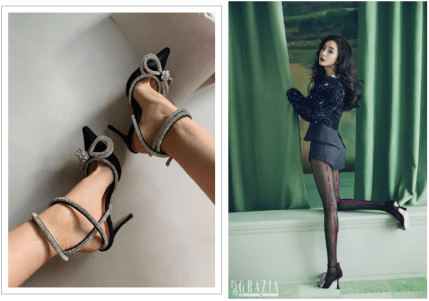 French blogger Camille Charriere also posted a pair of shoes, rhinestone butterfly high heels from Amina Muaddi, the whole pair is transparent and very beautiful.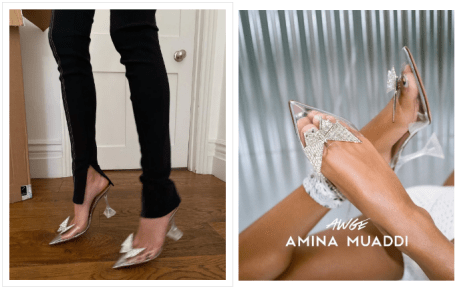 Fortunately, they also have another simple rhinestone shoe with only a few thin straps, which is not exaggerated and more suitable for daily life.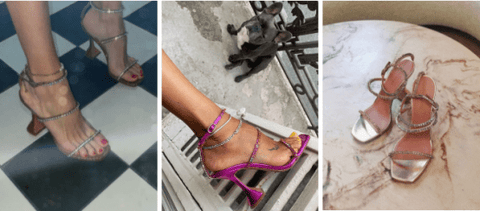 JW Anderson also has a simple rhinestone shoe this year. The basic kitten is decorated with a ring of rhinestones, which looks pretty cool. Norwegian blogger Darja Barannik and Finnish blogger Sandra Hagelstam both put it on. For girls who usually don't dare to wear too much flamboyant, you can consider this kind of embellishment of small-area rhinestones to improve your temperament.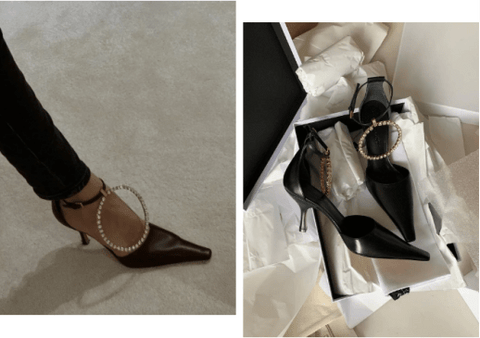 In addition to shoes and bags, there is also an idea of bling bling jewelry. Miu Miu has a rhinestone hairpin.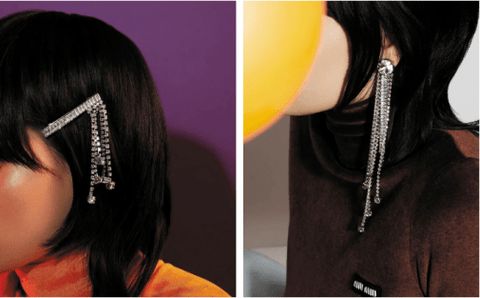 Anne-Laure Mais and Sandra Hagelstam have more exaggerated rhinestone jewelry. They are all shiny.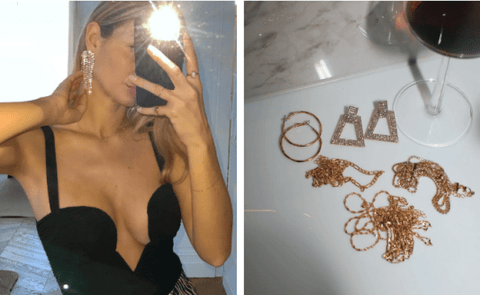 Don't be afraid that this kind of jewelry is not easy to control. It is easy to control if the area is small! The thin necklace worn by Hailey Baldwin and Danish blogger Pernille Teisbaek is very beautiful, very delicate and not picky.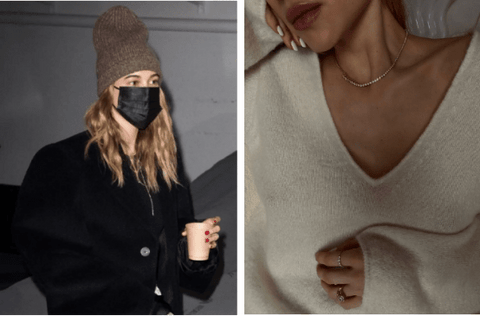 - Item Recommend -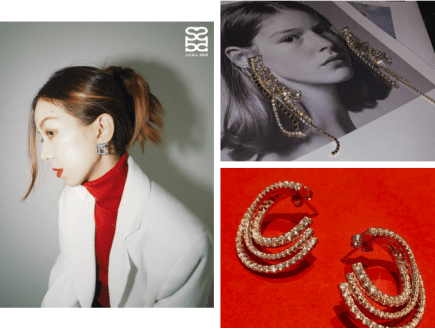 3/ The Hole Element
Degree of Difficulty:★★★★
Do you remember the hole that was popular last year? Holes are also popular this year, but this year's holes are more like being propped up by a plump body.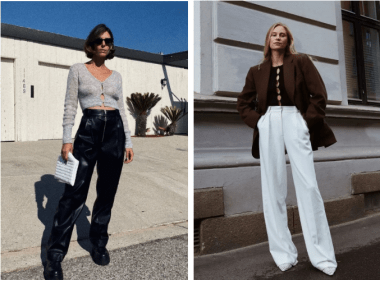 This kind of sexy is especially appetizing for French girls. The following two French bloggers Anne-Laure Mais and Sabina Socol wear this type. You can also can wear a camisole like Sabina.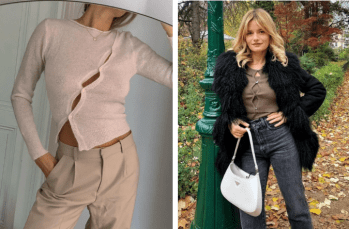 Sister Blutstein, the weird blogger who is always interested in new things, also put on this hole element. The sisters shared Merritt Meacham's jacket, which cost $100.
This brand is very minority. But they have a lot of such opening details this year, even extending to the pants.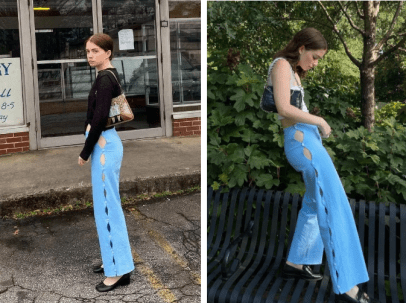 I thought that the holes of the top and pants was sexy enough, but when I saw the skirt of holes , I knew that it would look better! The following picture are pregnant mother Leia Sfez and Spanish stylist María Bernad. They are amazing!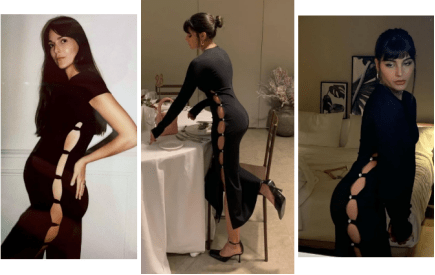 Even Dua Lipa wore a tight skirt and a pair of bling bling rhinestone shoes.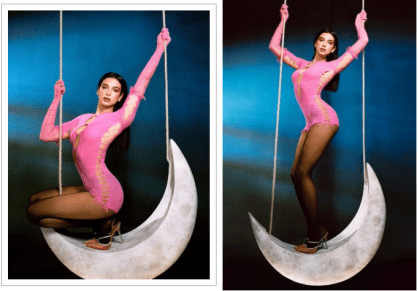 The aforementioned French bloggers Anne and Camille even wore cheongsam-style open skirts by coincidence. This skirt is very suitable for parties, and it must be eye-catching!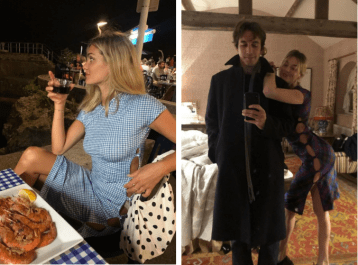 They are also chose the open skirt of the French brand Marcia. T-shirts, skin clothes, and sweaters are all great.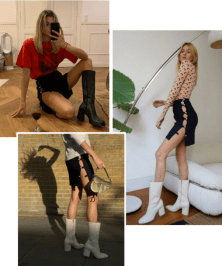 This brand has produced many such designs this year. From
tops
to
skirts
and even swimsuits. If you feel that openings on the chest or skirts are too difficult to handle, you can actually try tops or
swimsuits
with side openings, which are also pretty good.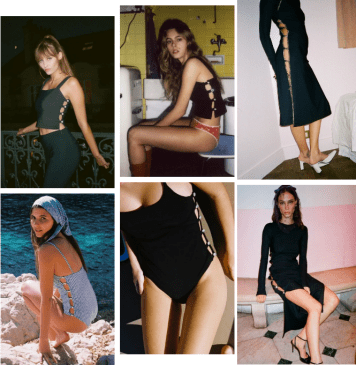 - Item Recommend -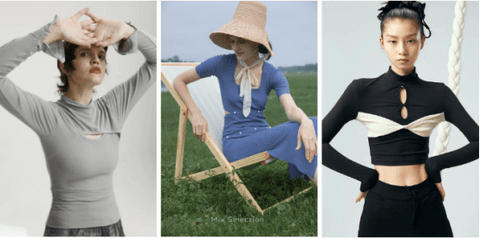 4/ Calceus
Degree of Difficulty:★★★★☆
Calceus is also very popular this year. Not only did the Ports show have calceus as the main focus, but also the spring advertisements of Ordos and Zara, they
also frequently used calceus as a collocation.
Calceus are so impractical, who would wear them? I found out that besides the
fashion blogger
, it seems to be the idol of the stage.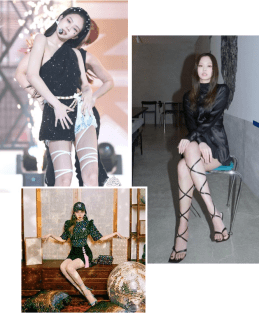 I think the difference between this year's calceus and previous calceus is that they emphasize sexiness and femininity. The most popular on Ins is the aforementioned Italian designer brand Amina Muaddi. This brand is so popular this year, several popular elements have all been mastered. Their collaboration with Ms. Lei has produced a lot of calceus, plus bling bling rhinestones. They are very sexy.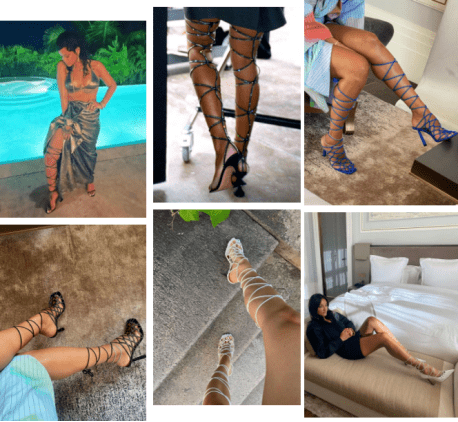 Stars and bloggers always choose high degree of difficulty calceus to try. But fashion magazines are more intimate, showing more ways and types of calceus. For example, if you look at the following pictures, you can find that the difficulty index of calceus is the large-area strap under the knee > the three-line strap under the knee > the strap near the ankle.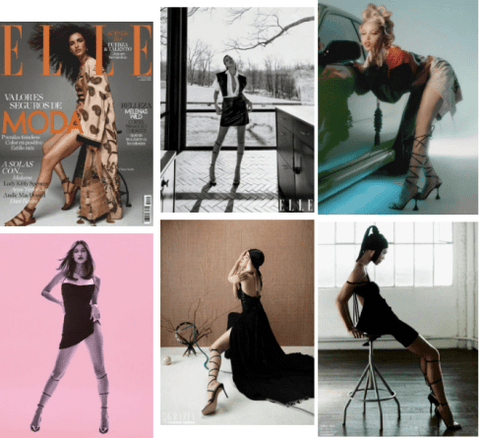 So, you actually only need to simplify the strap details to get to this trend. The simpler way is to set the middle strap under the calf, don't wrap it too high or too much.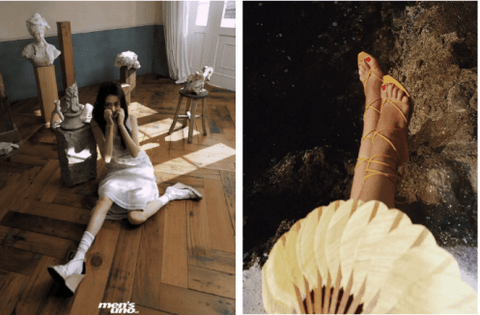 Bella's recent "Vogue" publication showed calceus that grow to the knees and only at the ankles. The latter seems to be much easier to handle.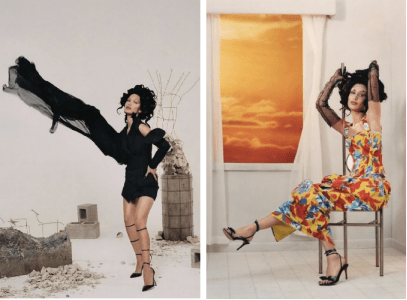 The two recent look of Hailey Baldwin leather skirts are also equipped with the style that puts all the straps on the ankles, which are very sexy. As long as the calf is not too strong, you can try it.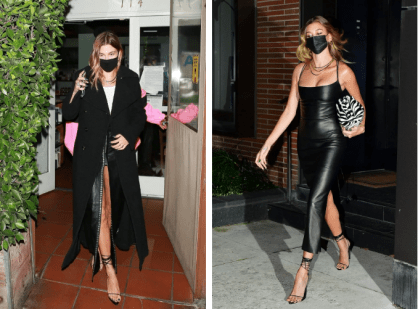 5/Corset
Degree of Difficulty:★★★★★
Corsets
are really hot recently, and all the celebrities of various styles on ins are wearing them.
Hailey Baldwin is very fond of corsets, she has worn 3 pieces recently.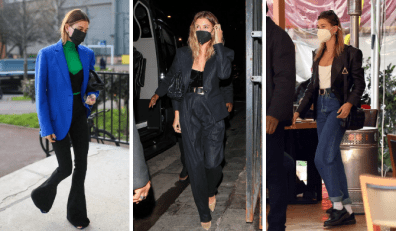 The white one on the right side above looks like a chiffon camisole, but it is actually a layer of chiffon covering the corset, from Alexander Wang. I found a replacement at House Of CB, which was worn by American blogger Lauren Crowe.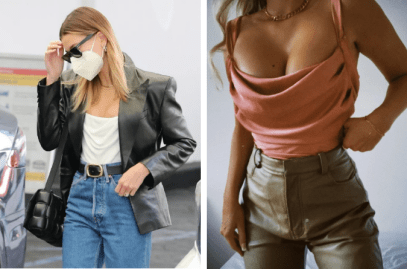 Corset has actually been extended to various categories. Whether it is the most common tube tops, suspenders, jumpsuits, or even
retro vests
, there all have corset styles.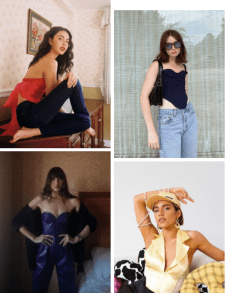 Corsets have certain requirements for the figure, and the upper body is definitely not good. But if you just have a little fleshy body, the stiff corset can also help
shape your body
.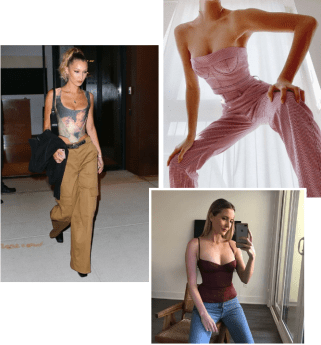 When choosing items, I do not recommend that you choose lace and transparent corsets, which are too similar to underwear and have high requirements for temperament. On the contrary, some casual styles are good, such as the denim worn by Sabina and the sports style worn by Lauren Crowe.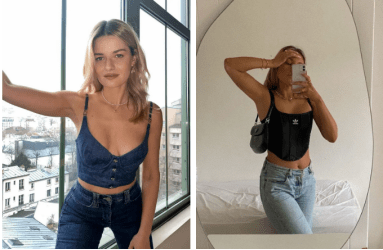 Corsets also have leather material, which is very suitable for hot girls. Alyssa, Dylana and Natalie wear leather models, are they cool and sexy?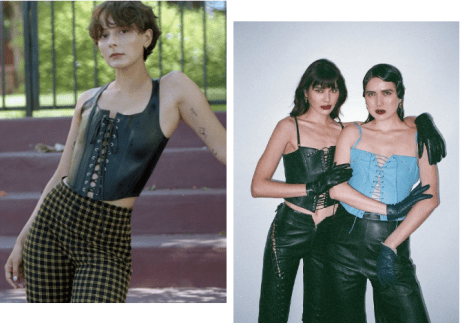 Don't think that corsets can only be exclusive for young girls, changing to knitted materials will give you a sense of maturity. Spanish blogger Paz Halabi used wide-leg pants and pencil skirts to wear the corset into the style of office workers.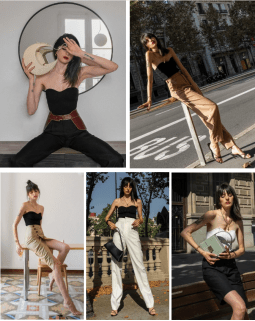 In spring, I feel that ordinary slings are too boring to wear inside, and it will be much more interesting to change to a corset! My favorite way of matching is silhouette suit with
corset
. Hailey loves to wear it like this, looks handsome and personality. And this outfit is also very good-looking, even girls of ordinary body can control it.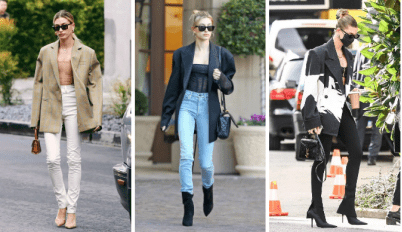 It's not just a suit, but all kinds of spring coats are good to wear. Those who like sports and leisure can try denim jackets and sports jackets like Bella, and those who like big women's style can also wear long coats like Tiffany Hsu. In fact, corsets are not as difficult handle as we think.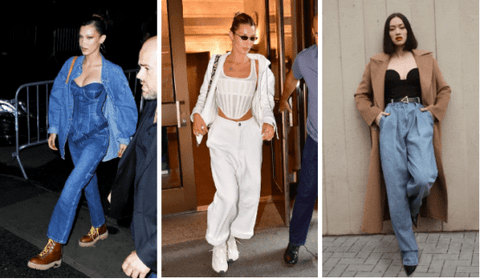 - Item Recommend -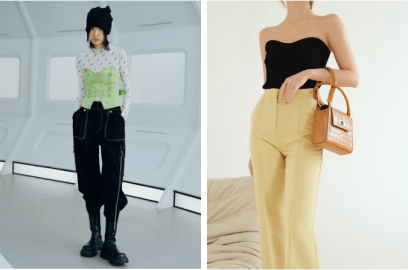 Well, that's it for this spring fashion trend. In fact, there is something worth discussing recently about trends. We provide you with more possibilities, and you have to judge by yourself what choice you make. In the trend, you will find your own style more easily. But more importantly, don't let yourself get lost in the trend.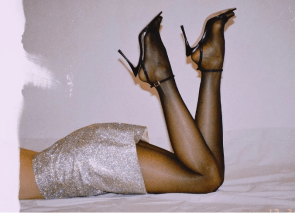 Please visit
here
to read more blogs!