Punk Rave Summer New Arrivals | Gothic style
Dresses&Skirts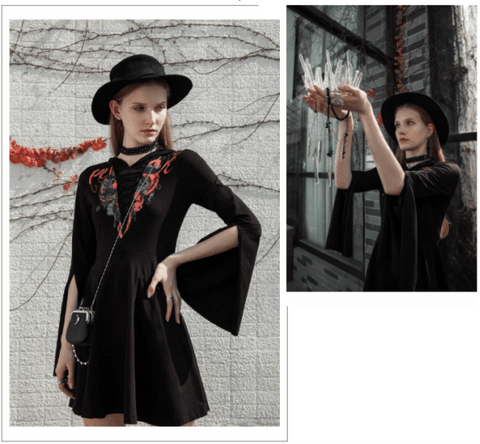 Poppies are in full bloom and snakes meander among the flowers.
The "Poppy Chestnut Flower and Snake" logo printed on the chest, the contrast of red, black and gray is eye-catching and has a sense of story.
Slit flared sleeves with small hooks inside, which can be opened or closed as you switch.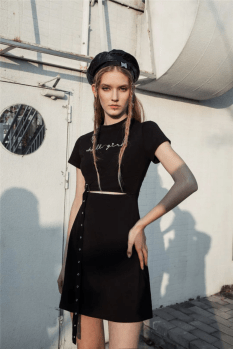 【Hell Girl Series: Letter Embroidered Hip Dress】      
This series is in the style of rock hell girl! The English embroidery brightens the whole dress, and the metal buckle and loops around the waist can be adjusted as you like. The slightly hollowed-out details on the waist are more dark and sexy.
【Wander·New Street Rising Series: Asymmetric Net Yarn Pendant Printed Dress】
Punk red and black plaid logo printed T-shirt with spliced double asymmetric mesh skirt. There is also a matte leather belt on the waist which combines coolness and morbidezza. Daily commuting and appointments are very suitable!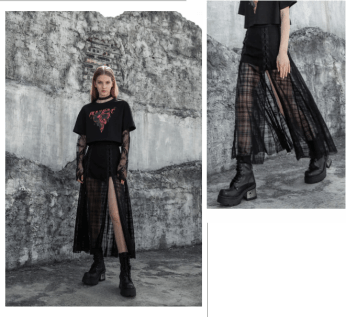 【Mysterious Legend Series: Elegant Mid-length Plaid Mesh Culottes】
Is there a culottes that are both cool and elegant? of course! The inner comfortable shorts follow your big steps and you are not afraid of wardrobe malfunction. The checkered mesh skirt with double slits on the outer layer is decorated with a webbing drawstring. It is very individual and unique.How beautiful to wear!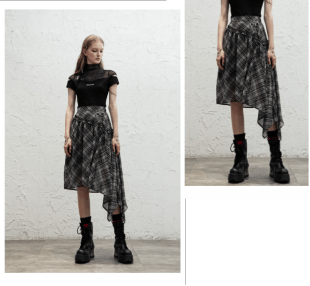 【Wander·Immature Rebellious Series: Punk spliced irregular long skirt】
There are thousands of summer goth skirts, and chiffon skirts account for almost half of them. The high-waisted asymmetrical skirt is cute and ethereal. The long white gold buckle on the waist has a ethereal feeling.
Coats/T-shirts/Vests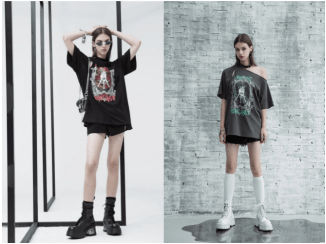 【Wander·New Street Rise Series: Loose Short T-shirt】
Occasionally wearing off-shoulder clothes can show off your little sexy. The left shoulder is strapless, showing the slender clavicle and shoulder lines. The choker-like hanging neck strap at the neckline adds a touch of sexiness. Plus a series of theme original pattern printing, it is showy and eye-catching!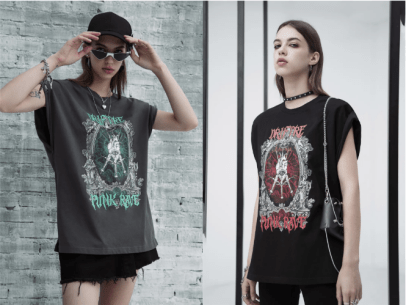 【Wander·New Street Rise Series: Round Neck Printed Shoulder Waistcoat】
Get out of the shackles, put on a sleeveless vest and go out in the summer! Comes with detachable custom-made shoulder cotton to modify the shoulders, which is very suitable for girls with narrow shoulders. The series of theme original pattern printing, full of mysterious and eye-catching personality. Suitable for all types of figure and very cool!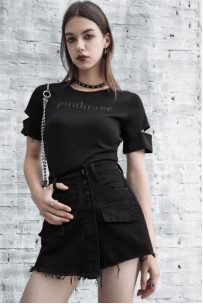 【Stereoscopic printing simple style T-shirt】
Simple and with a sense of design, it is a good item to wear! The front chest is embellished with a silicone-like logo print, which is delicate and stereoscopic. The sleeves are designed with openings to modify the arm lines and bring a little sexy.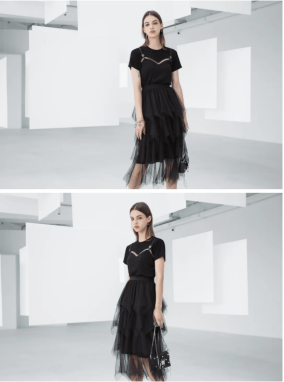 【Wander·New Street Rise Series: mock two-pieces stitching tight-fitting T-shirt】 
How to subtly show sexy without being exposed? You will know when you put on this T-shirt. The letter M-shaped hollow stitching and perspective mesh on the chest is faintly sexy.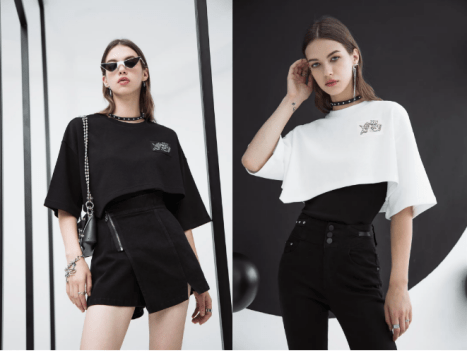 【Designed short-sleeved T-shirt】
Use irregularities to show a sense of design. The loose and short version that doesn't pick your figure is suitable for summer. It improves the waistline and shows the long legs. The chest is embellished with the original series of little angel appliques, which attracts the eye.
【Loose and short mesh top with two ways to wear】
The versatile and chic sense of the mesh makes it fashionable to wear. You can wear a vest or a tube top inside!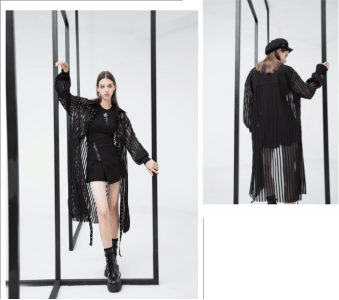 【Perspective Striped Long Jacket】
The individual perspective stripes meet the loose long coat. The garment body and placket are decorated with suede metal loop webbing, which not only modifies the figure but also coexists with the hardcore punk feel and little sexy .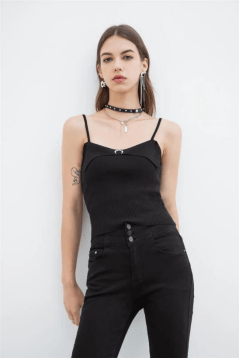 Summer is coming, you haven't got a vest yet? A knit vest that fits and covers the flesh. The front tube top is decorated with crescent embroidery, which is not fancy or complicated.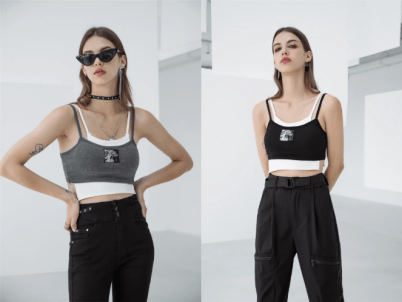 Have you kept up with the hot trend of stacking vests? The double shoulder straps and mock two-pieces, creating a visual effect of misalignment and overlap. Use it to match overalls, you will get sexy and cool at the same time!
Pants/Shorts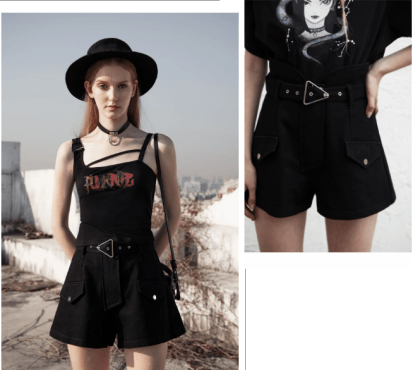 【Hell Girl Series:High waist triangle button shorts】
Those who like to wear shorts, please come in! The high-waisted A-hem design will makes you look slimmer, and the loose-fitting trousers show your legs more slender. The metal triangle buckle belt comes with a punk style, and the back pockets are embroidered with a cross love snake pattern, which is eye-catching and individual!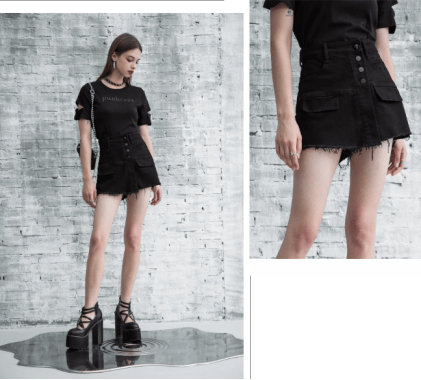 For girls who like shorts and skirts, please take a look! The front is a skirt, and the back is shorts. It satisfies your desire to wear a short skirt and you can move around freely.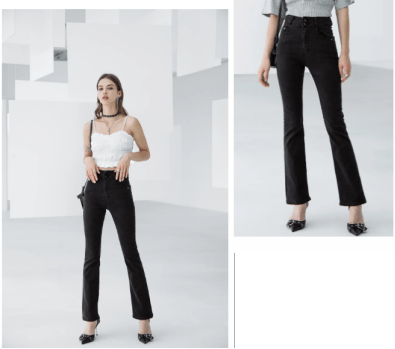 The trend is a reincarnation, the flared pants are coming back. Fashionable retro small horn slit trousers, it is casual and elegant. The waist is also decorated with double skull buttons, full of dark details.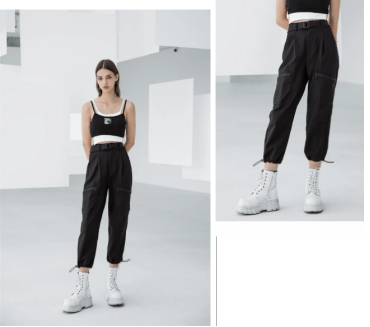 Overalls is a item that can be worn all year round and make you cool. The loose version is show you slimmer. The multi-pocket design can hold a lot of small things.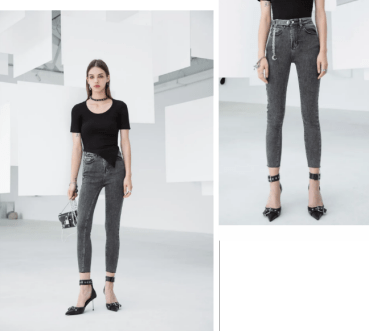 Girls who like jeans, please have a look! It is decorated with not onlyaistband buckle but also the detachable English alphabet moon pendant chain. When you put on this pair of jeans, you are a punk girl with long legs!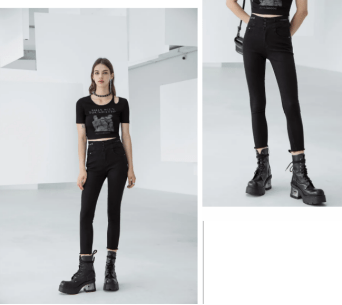 How many jeans do you have in your wardrobe? This is a basic skinny pants version to help you modify your legs.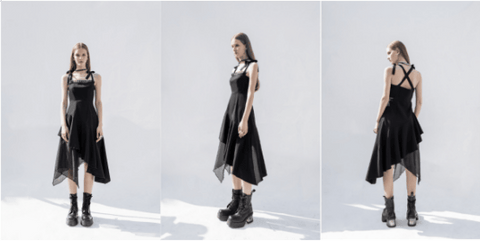 【Mysterious Legend Series: Fairy Slip Dress】
The darkness slip dress can also make you look like a slim fairy . The design of organza lace with flounces is very elegant.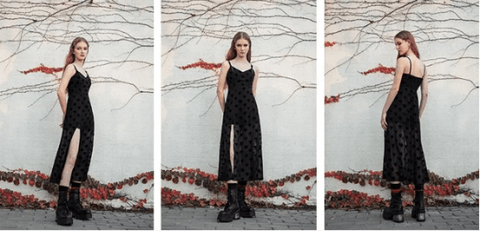 【Wander·Immature Rebellious Series: Hearts Shape Chiffon Dress】
How can it become the focus of the street in summer? The slim-fit slip dress made of chiffon is decorated with hearts pattern. The high slit skirt makes the dress more cool and not monotonous.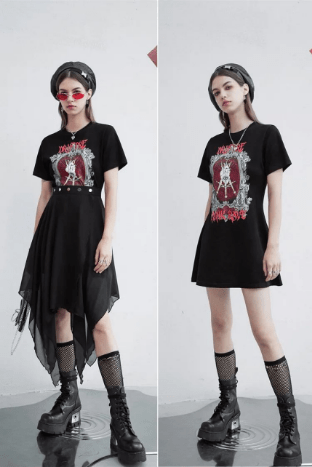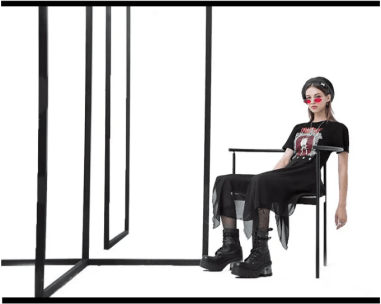 Method one: With chiffon peplum   
Method two: Just wearing a T-shirt dress
【Wander·New Street Rise Serie: Detachable Peplum Dress】
Personalized two-piece suit. The upper body is a loose round neck printed T-shirt dress. The lower body is matched with a detachable irregular chiffon peplum. You can freely switch between two ways of wearing.

【Wander·Immature Rebellious Series: Slip Dress】
Let's throw off the thick clothes in the summer! The sling shows your collarbone, and the skull decoration is full of darkness. The design of black flocking heart-shaped is Gothic style, and the gray-black plaid is partial to punk retro style.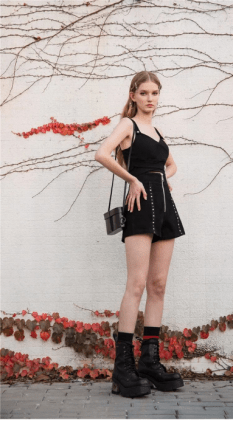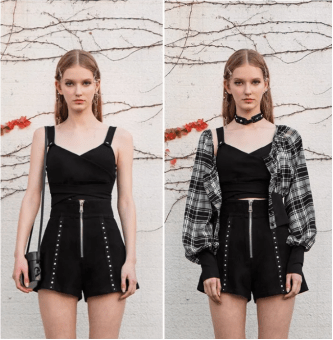 【Mystery Legend Series: Short Strappy Vest】
A short vest that fashionistas often wear in summer. It has a simple and individual design. It looks nice whether it is worn outside or inside!
Please visit here to read more blogs!