The Top 10 Gothic Black Little Dresses – Various Options for Different Occasions
The black little Gothic dress is one of the mush-have pieces that every girl that loves the Gothic style needs to have in her wardrobe. The Gothic black little dress is different than the regular black dress. It is filled and inspired by many Gothic details that make it unique and interesting such as tulle, lace, mesh, different patterns, etc.
The little black Gothic dress can be very functional and stylish if you know how to style it and how to wear it. It is even great as a black wedding dress – something that will make an eye-catching attraction and leave an enormous impression.
As Punk Design has an abundance of different little black dresses, here is a pick of the best ones that will serve you the purpose more than you will ever expect.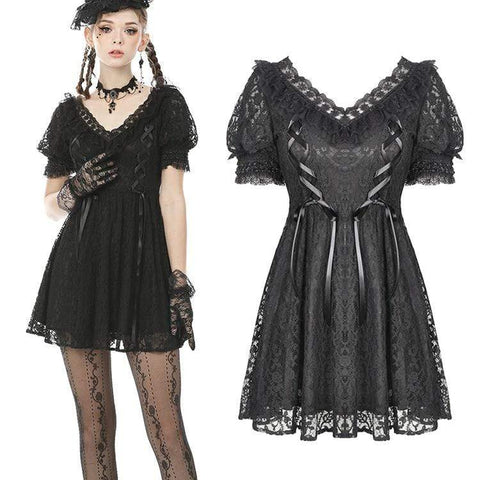 Women's Goth V-neck Floral Lace black little dresses
Modern and stylish are the two adjectives that best describe this extraordinary dress. The tone and dose of romanticism that can be seen through the floral lace are very feminine, yet keeps to the Gothic girl. The dress is short, with short sleeves and V-neck, and it features a lot of lace. This is a perfect summer black dress that is great for different occasions.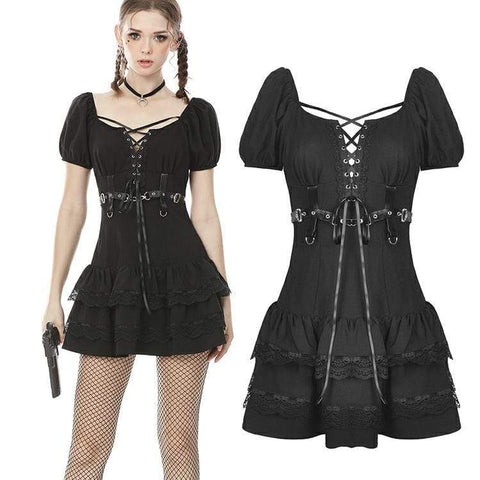 Women's Punk Tooling Style Lacing dress
For those who are looking for a dress that is a bit more edgy and daring, this is the perfect option. The mini length and the short sleeves, resemble the look of a modern-day dress inspired by the past farm dresses. The front of the dress has laces, and added leather details which make it look more punk and goth. There is some added lace on the skirt.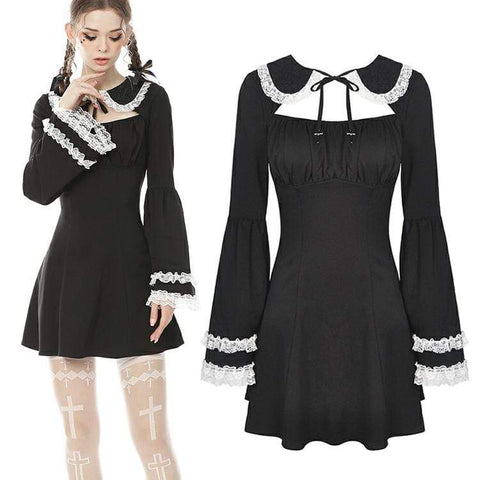 Women's Vintage Gothic Puff Sleeves dress 
This black maid dress is a modern version and a very desired piece for those looking to play in the lines between the sexy and the cool. The dress captivates with its goth fashion. The cut is straight, slightly opening towards the end. The bell sleeves have detached rows of white lace also present on the collar too. This dress can easily be styled with some nice tights and is a great choice for the springtime.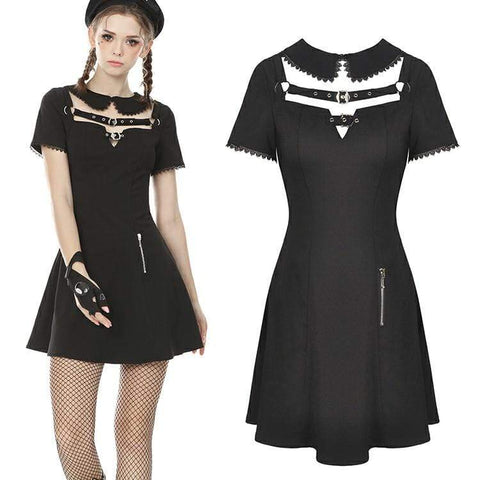 Women's Punk straps Peter Pan collar dress
Another pretty cute and interesting black dress is this one, which comes with a very interesting front. The Petar Pan collar as well as the straps that hold both sides together deliver a very punk and rock vibe. The short sleeves and the collar ends with zigzag details. Another pretty interesting detail is the side zip pocket.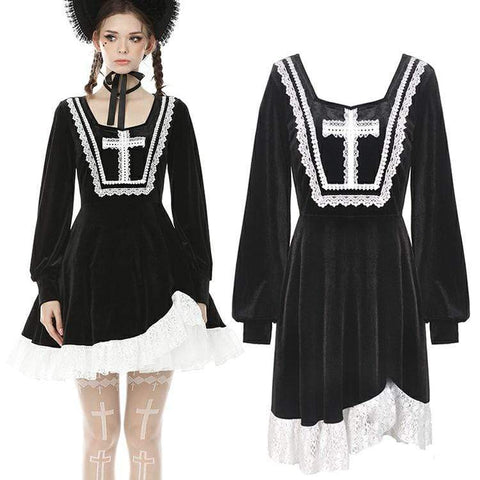 Women's vintage gothic puff sleeves black dress 
For those of you who are eager to leave an impression in a full Gothic look, then, this is the dress for you. It is inspired by medieval times, with a full Gothic vibe and a huge white cross at the front. The sleeves are long, while the end of the skirt has a wrap-up detail with white lace. This is the type of dress that will look great for some themed party.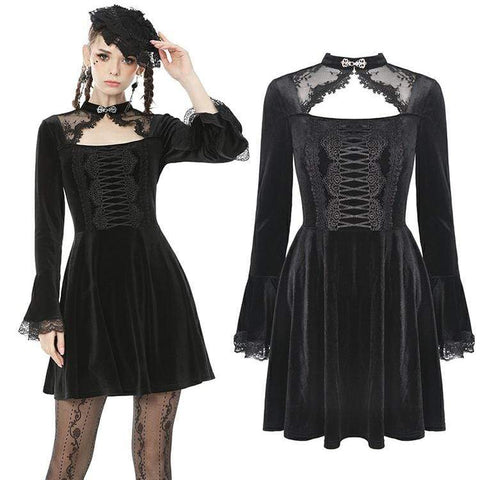 Women's Vintage Gothic cutout black dress
The black Gothic dress can be very elegant and stylish, and this is exactly the example that shows that. The delicate lace that comes around the neck, forming a cutout look, with the bell sleeves and all the additional lace details that appears throughout the dress is very captivating. This is a type of dress that will look great for official and elegant occasions like weddings, cocktails, receptions.
Women's Dark Cutout shoulder lace black dress 
The delicate and romantic lace that comes as the main detail on this dress makes it a perfect option for all those who are not even big Gothic fans. The cutouts, the lace, the details, and the lacing all create this wonderful black dress.
Women's Vintage high/low halterneck dress 
Perfect for the warm summer days and nights, this cute dress is one of the pieces that you will gladly wear. The shorter front and the longer back are very stylish and girly. There is some Gothic lacing that completes the dress.
Women's vintage gothic lace ruffles dress 
Another pretty interesting black Gothic dress that is also very suitable for costume and theme parties is the Gothic lace dress. Filled with maid dress details, it combines the white-collar and the front as a base for some unique Gothic lacing. It comes with long sleeves, white sleeve-ends, and white lace.
Women's dark cutout mesh black dress 
If you are looking to make an impression with some subtle but very appealing Gothic lace, this is the right dress for you. The cutouts and the halter neck style make it look mystique and dramatic.
Women's vintage gothic love heart dress 
Velvet is always a good choice for a little black Gothic dress. The unique collar detached to the shoulders alongside the punk belts on the side makes this dress both cute and rebellious.
Women's Shoulder shirt collar black dress 
Another in the series of maid-inspired Gothic dresses comes with cutout shoulders, wide round white front, and belt in a motorbike-style. It has a wide A-line cut.
Women's Vintage Gothic puff-sleeved velvet dress 
Puff sleeves and velvet are a great combination whether you are looking for a cute dress for a night out or some even like a night wedding. It is a piece that combines the elegant and the casual, and it truly will make you look like a goth doll.
Women's Vintage Gothic stand collar lacing dress 
This is a dress that carries a lot of vintage and goth vibe. The white wide V front, with the black lacing and the tailor stripes towards the end of the skirt, deliver a fabulous and on-point dress.
Women's Vintage Gothic square collar dress 
Square collars are always interesting, especially if they come combined with a soft and delicate black lace-like on this dress. Perfect for a wedding or night out, this dress will take everyone's breath away.
Women's goth turn-down collar puff sleeve dress 
Subtle, stylish, and discreet, this is the type of dress that you will gladly wear all year long. Pair it with high boots and you are ready to go.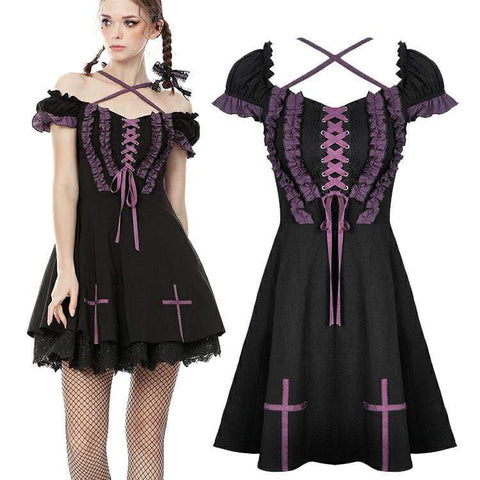 Women's Harajuku off-shoulder ruffles purple dress
Adding a bit of color is always a good idea, especially if you go with something unexpected such as purple. The off-shoulder top, with the X straps and lots of lacing and lace in purple, is the true definition of Harajuku style.
Women's Lolita love heart cutout dress
A maid-inspired dress, in a mini length and short sleeves, with an appealing heart cutout on the front is a cute choice for all the Lolita clothing lovers.
Women's Vintage Gothic Rose Square maxi dress
Nothing brings a bigger Gothic vibe than a maxi black dress. The square collar, the black lace, and the rose details are mystique and intriguing.
Women's Goth Lace Collar Long Sleeved dress
Fitted, with long sleeves and interesting mesh, this is an elegant dress that will elevate your outfit to a whole new level. It is chic and interesting, full of Gothic details that are very appropriate for black tie events.
 Please visit here to see more darkinlove gothic black little dresses!