How To Style Punk Gothic Hoodies
What are enduring fashion items? The hoodies are certainly one of the items that cannot be ignored. Some people may think that the design of hoodies is too simple and lacks fashion sense. Then she should look at the Punk Gothic hoodies, which will certainly surprise her ~
What is the Design of Punk Gothic Hoodies?
Gothic punk hoodies are usually black or dark colors and like to add some metal details. There will be a strong sense of metal. Punk hoodies will add chains or zippers so that the whole piece of clothing is full of rebellious feelings. Together with the irregular stitching and eyelets design, they are filled with an innate and unique flavor. Punk style represents the idea of not pursuing the masses, creativity, and rebellious personality.
The gothic hoodies are conspicuous by their gothic letter print, which resembles a thorn pattern that looks like a search for strength in the darkness. At the same time, it uses a vertical shape line and ruched design, as well as an asymmetric design that is full of a gothic unique decadent feeling. Some grunge hoodies will also use the witch hood design, which is very suitable for Halloween or participating in cosplay.
Punk gothic hoodies are mostly made of cotton, velvet, or mesh fabrics, which are both stylish and comfortable. Are you looking forward to gothic hoodies? Sign in to our store and search for your favorite items. If you have unused grunge hoodies at home and don't know how to match them, then Punk Design will take you to explore their matching method together!
How to Style Punk Gothic Hoodies with Tops?
A gothic hoodie is a great piece for any season except summer. In the warmer spring and fall months, you can choose hoodies with a zipper and wear any top you like underneath, such as T-shirts, tank tops, crop tops, or even a slim-fitting knitted sweater. When the cold winter months come, a punk hoodie with a jacket is a very easy fashion outfit to wear to keep out the cold and layer up!
A punk-cropped tank top like a basic one is chic. Then you can take either an oversized or corrupt zip-up hoodie this just makes it so that you can take it off if you are feeling hot. Or you can keep it on if it is cold. Some gothic leggings on the bottom just to make it super comfortable. You can also choose a pair of straight pants to go with it, and any underwear with it will not be out of place.
You can always see that on Pinterest there are a lot of people who put hoodies and jackets together. Punk gothic hoodies layered underneath any jacket are really suitable. There is a visual layer seen up top in the collar area so that hoodie hanging out from the back really does make a difference. Any jacket that doesn't have a hood already attached to it. If it does have a grunge hoodie attached to it, don't double that looks weird.
Especially the faux leather jacket can have a good echo with the metal design of punk hoodies, this match is simply a fashionable hipster. Add a pair of black punk boots, and you'll be the brightest in the city, whether you're going to a disco or driving your motorcycle! If it is a more casual style hoodie can choose a bomber jacket with it, looks so youthful~
If you are a graduate starting in the workplace, then a suit coat will be the best choice for your closet gothic hoodies. It will not be too formal nor will the leaders think you are too student-like. After work, you can take off your coat and go to the party! The coat can choose an oversized silhouette, it will look more casual. If you want the overall outfit to be more vintage, then the plaid coat will be a good choice, the tweed fabric will also be warmer.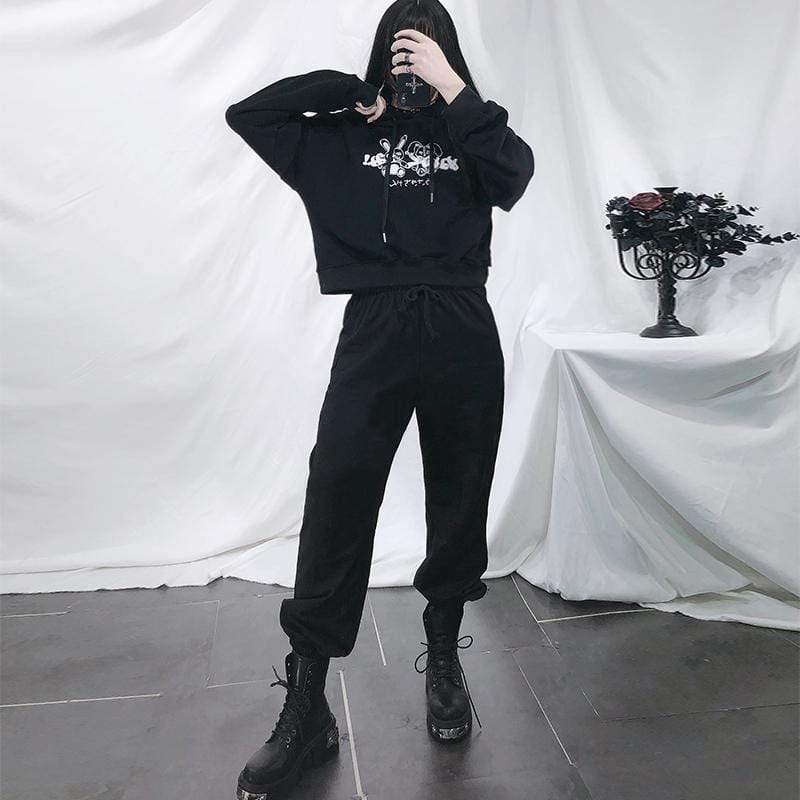 How to Style Punk Gothic Hoodies with Bottoms?
First up we have a basic and this is just a punk gothic hoodie and ripped leggings but you can always spruce up the shoes. But the most basic thing to do if you are running late is just to take some white tennis shoes and leave them at that you can add some quirky socks if you want. This is pretty basic and it can be worn literally anytime. If you want the overall dress to be cooler, you can choose a pair of chunky punk boots with chains, I believe it will give you unexpected results. This takes minimal effort and you probably don't even have to plan it and advance. Punk leggings with a hoodie and put it together and you have a chic outfit.
The next thing that you guys can wear the hoodie dresses and these don't have to be sold as gothic hoodie dresses. It can just get a big size of a punk hoodie and usually, they have really big ones in punk stores. If you look in the men's section which is what I always do, but you just put a huge hoodie on and then wear some athletic shorts underneath. To complete the look I think sneakers look really good with this. You can use tennis shoes or whatever type of shoes that you want but I feel like punk strappy boots also just like add something cool to it.
Third, we have a grunge hoodie tucked into gothic ripped jeans or loose denim shorts whichever corresponds to the weather that you are in right now. I really do like the look of this because it cinches in your waist so you don't like to lose the waist inside the hoodie. So take any pair of jeans and usually like punk straight jeans are best for this because they are a little looser. Take a hoodie that's not too thick and tuck it and really like push your hand out like go really deep so there are no wrinkles and stuff. It will look very nice and put together and more of an outfit rather than just like a punk gothic hoodie and some ripped jeans.
Finally, we can't forget about the cropped hoodies. I love them so much, you can always wear a gothic cropped hoodie with some sports pants and some slides with socks. This is the comfiest outfit ever and you also get some air blowing under. It is cropped so it's not gonna be too hot you can wear high-waisted leggings if you want. But sports pants are the comfiest option and I feel like slides just go with the vibe of that outfit.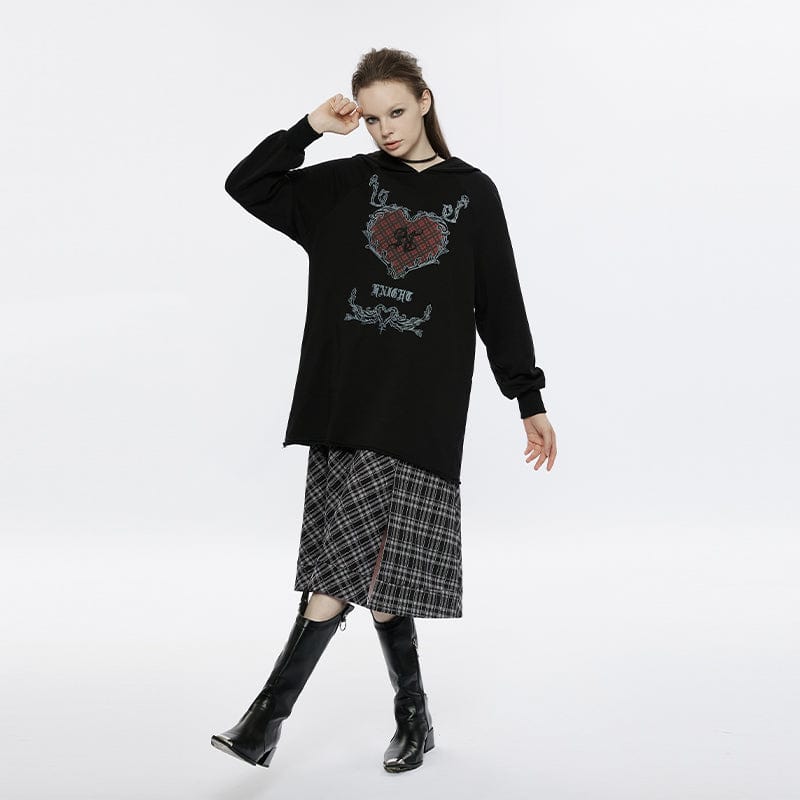 How to Style Punk Gothic Hoodies with Accessories?
Most fashionistas like to match accessories with their outfit, they can let your outfits more attractive. Recently, the combination of a hoodie and a tie is very popular. You may not understand how such a formal accessory can be combined with a punk gothic hoodie, the representative of casual wear. Then you can go pick a tie and tie it loosely on any of your hoodies, you will find a very preppy style! But it is best to choose a tie that is a different color than the hoodies, the effect of the double colors will be chicer.
If you are going out in a grunge hoodie, you can choose to carry a punk waist bag, which will not only store your belongings but also make your outfit shinier. For earrings, I would suggest simple ear studs or ear cuffs, as they should be more suitable for a casual hoodie than elegant hoop earrings.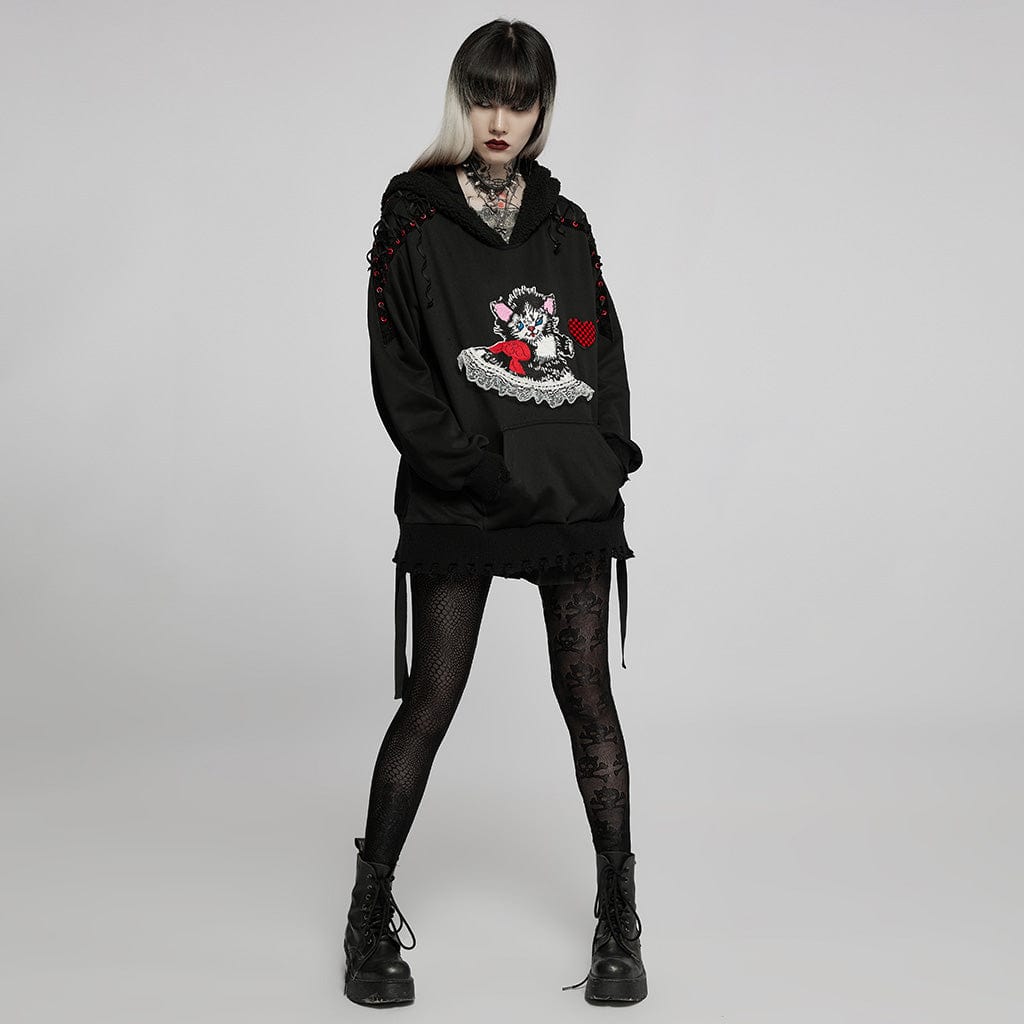 Many guys say hoodies shouldn't fit too tight or shouldn't fit too loose, but I think you should base it on your interest. If you are more of a dapper clean-cut person then maybe something a little slimmer fitting will be your cup of tea. If you're a gym rat or nowadays a home gym rat, I honestly think that you should stick to more slim-fitting punk hoodies nothing too tight you'll see a lot of fitness gurus working on super tight hoodies. If you're into streetwear or maybe your wardrobe is mostly casual, then you could choose a little more oversized ones.
Gothic hoodies and punk hoodies are similar in design, but they are actually slightly different. For example, the gothic hoodies highlight the curvaceous body shape, so it is slimmer in the version. But punk hoodies are a little looser. So whether you want a looser or slimmer fit, punk gothic hoodies have you covered.
This is all we have about the matching of punk gothic hoodies today, I hope you will like it and it can provide some ideas for your outfits. If you want other punk gothic clothing, Punk Design has been waiting for you. Our collection includes the best categories to help you search for the right product. If you have any questions during the purchase process, please feel free to contact us. We strive to ensure that you have a pleasant shopping experience.