How to Choose the Perfect Gothic Little Black Dress
The party season is coming at the end of October and coming into December. The Christmas parties are working and there are going to be lots of occasions over Christmas to go out. At this time, a punk gothic little black dress that every girl should have in her wardrobe is very important for our dressing. They are really easy to make us look beautiful for different occasions. You can get so much wear out of them with different accessories, handbags, shoes, and gothic jewelry. Please keep reading if you want to find out what type of gothic little black dress is perfect for you, Punkdesign has prepared a shopping guide for you!
The Feature of The Gothic Little Black Dress
If you're looking to add a little black dress to your closet or want to try a different style, then I highly recommend a gothic or punk black dress! They will definitely make you look good. Don't you believe it? Then let's take a look at their design features.
Hollow Out Design
The dark purple or black color coming out from the black patterned net produces a mysterious and sexy visual feeling. The skin is faintly visible under the hollow out of the garment, which is one of the characteristics of the Gothic style.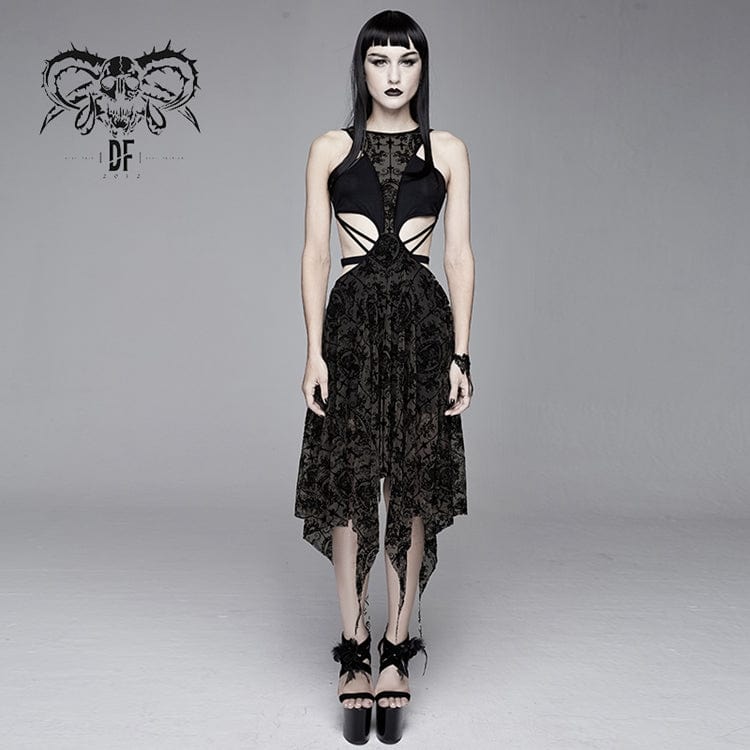 Dark Floral Pattern
This kind of dark pattern on the fabric is mostly based on totems and also floral patterns, which are usually directly woven or embroidered on the fabric, while printing is not commonly used. The fabric does not show openly but also does not lose connotation, more representative of the delicate and elaborate grunge style, full of aristocratic temperament.
Layer Design
The cascading effect of complicated ruffles and simple line ruffles add a touch of luxury to the gothic clothing. The large ruffled collar, cuffs, and huge hemline show a gorgeous decadence. And the corresponding thin lines of the minimalist style of tailoring not only slim the body but also reflect the calm.
Pick A Gothic Little Black Dress According to The Figure
A well-fitting dress can showcase your beauty to the maximum. After knowing the appeal of the gothic punk dress, let's see how different body shapes can choose a gothic little black dress that suits their figure!
Pear Body Shape
The pear shape is somebody whose shoulder is narrower than the measurements of the hips. So the pear shape aims to create more width on top of the body and skin. A gothic off-shoulder dress and slip dress will highlight your shoulders and helps to balance the attention toward your upper body. It will give us the appearance of wider shoulders which is what we want to achieve. Because it the narrower at the top and wider at the bottom so if we can create this wider top pinch it in the waist and then just skim the hips with a grunge A-line dress. It will be the perfect gothic little black dress for you.
Or you can choose quite a lot of structure to the shoulders such as punk puff-sleeved dresses. They are going to be perfect because they give us the appearance of broader shoulders which is what we want to achieve to get the balance between the shoulders and the hips.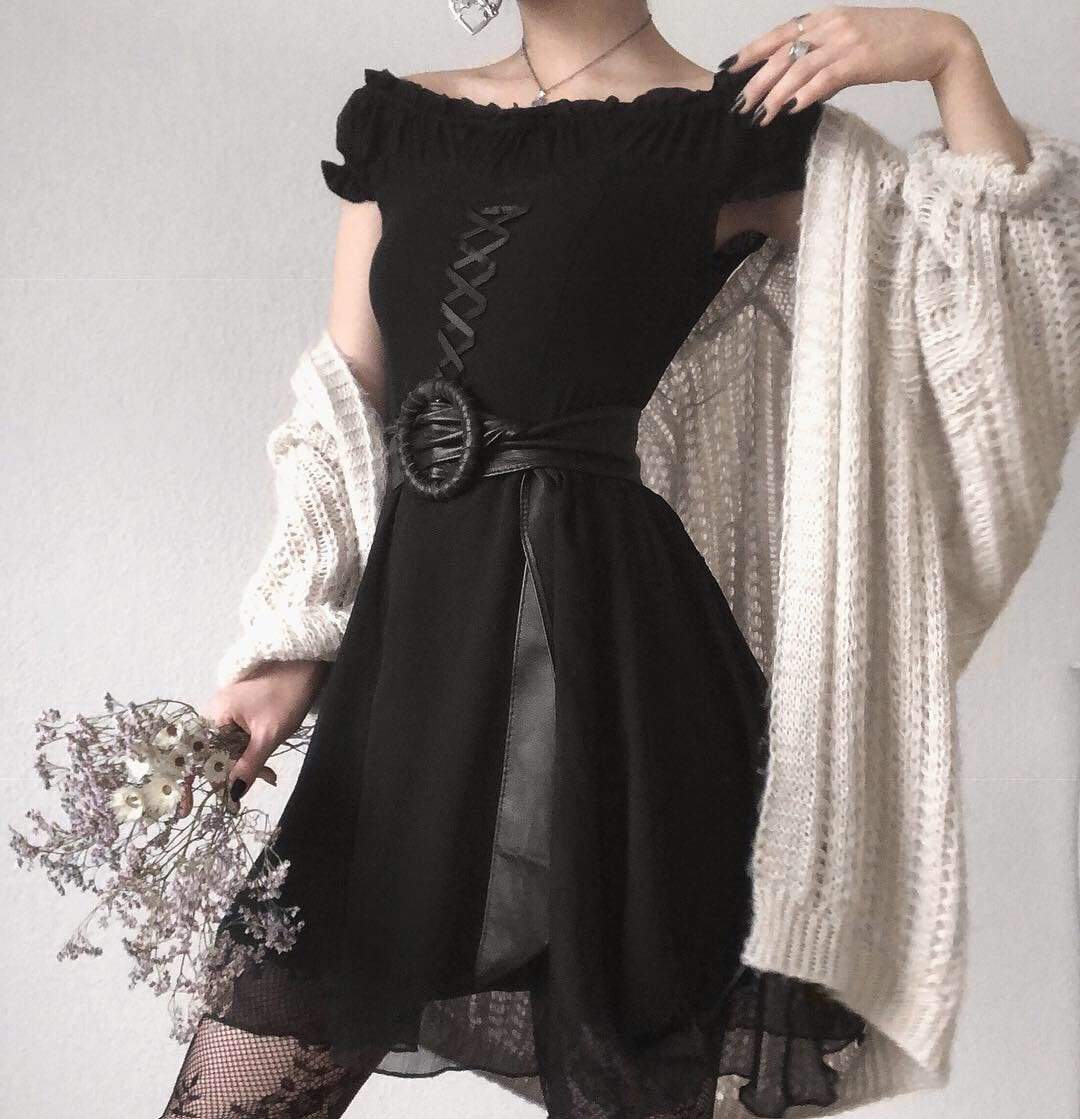 Inverted Triangle Body Shape
Broad shoulders and a narrow lower body are the classic signs of an inverted triangle body shape. We will do that by trying to visually narrow the shoulders and widen the hips. So keeping the upper half of your dress simple and letting the bottom stand out is very important. A gothic multi-layered dress or grunge bubble dress will be a great way to solve this problem. Embellishments and details at the lower end can draw attention away from a wide upper body. Ruffled dresses are the way to go to achieve a voluminous look. And please remember, sleeveless dresses do not broaden your shoulders further.
Apple's Body Shape
A full torso and slender legs are the characteristics of an apple's body shape. If you have the apple shape or the around body shape then you might want to go for something like this grunge wrap dress or a dress that has ruching to the side of the dress. It means the cloth is gathered to one side that's going to give the appearance of a smaller waistline. If you have a fleshy arm, you might also want to think about having capped sleeves or a long sleeve dress so from the elbow or down towards the wrists are going to be the slimmest part of the arm.
A-line dresses show off your legs while the volume balances out a heavy upper body. The v-neckline of the gothic dress can accentuate your breasts and create a hidden sexiness. A gothic shift dress is perfect for hiding any bulk around your tummy while the short length perfectly complements your slim legs. 
Hourglass Body Shape
Equally proportionate shoulders and hips with a slim waist are the traits of an hourglass figure. In the curvy hourglass figure, you already have a balance between the top half and the bottom half. So a slim-fitted dress is going to look absolutely stunning. The hourglass figure shows off the curves beautifully. Whatever you do to the top half of your look make sure you do to the bottom half as well. If you keep everything streamlined and draw attention to your slim waist that's going to be absolutely great.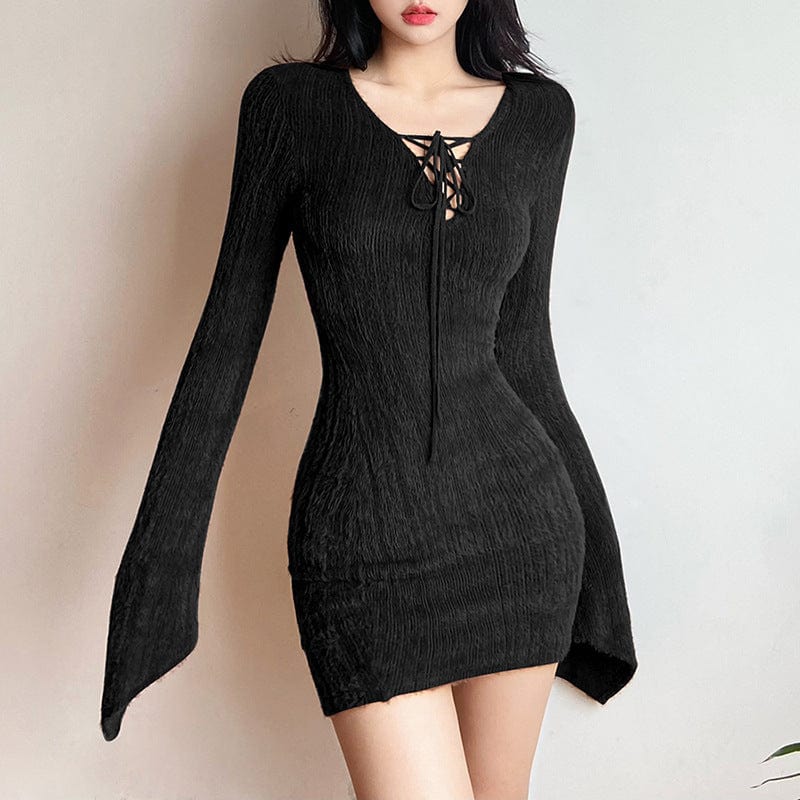 Rectangle Body Shape
The athletic or rectangle shape has the same measurements in their shoulders and their hips. The layered effect creates a curvy silhouette for a straight body shape. Flowy bottoms mean volume and can further add to the curvy illusion. Colour blocking such as punk plaid dresses can highlight your body shape and give you a more defined waist. Whatever little black dress you wear I suggest for the rectangle shape that you wear a belt to create the illusion of a waist.
Pick A Gothic Little Black Dress According to The Fabrics
It is very important to understand which fabrics are the right for that occasion and also for your figure to flatter you the best when you are considering the formal type of the gothic punk little black dress. If you are looking for stretchy fabrics, make sure to check the garment tag. If the tag reads "spandex, nylon, jersey, and elastane", then the outfit will be extremely stretchable.
Different styles of gothic little black dresses are made of different fabrics, such as chiffon, mesh, polyester, lace, and so on. Different seasons to choose different fabrics of dresses to make us more comfortable in the event. Summer can choose gothic mesh dresses or lace dresses, mesh dresses with soft, and flowing characteristics, and its wear resistance is also better, not easy to crease ball. The little black dresses made of lace are light, giving a sexy and mysterious feeling. Stretch lace fabric elastic and soft texture, comfortable to wear, can give people a different visual and sensory enjoyment.
In winter, you can choose a grunge dress made of thicker and warmer fabrics, such as velvet dresses. Velvet fabric has a good luster and good elasticity. The feel and warmth are also good, the texture is delicate, and it feels very comfortable to the touch, just like touching soft fluff.
Pick A Gothic Little Black Dress According to Different Occasions
Punk gothic little black dresses come in a variety of designs, so now let's see how to choose different dresses for different occasions!
Work
Work is a relatively formal occasion, then the round neck mid dress is very suitable. Just above the knee length will feel very comfortable to wear, and not worry about feeling embarrassed during the work process. The punk shirt dress is also a very good choice, it is not as playful and cute as a slip dress, but also not as formal and monotonous as a suit, giving a very dry feeling. If it is winter, pick a gothic long coat that will be both warm and generous.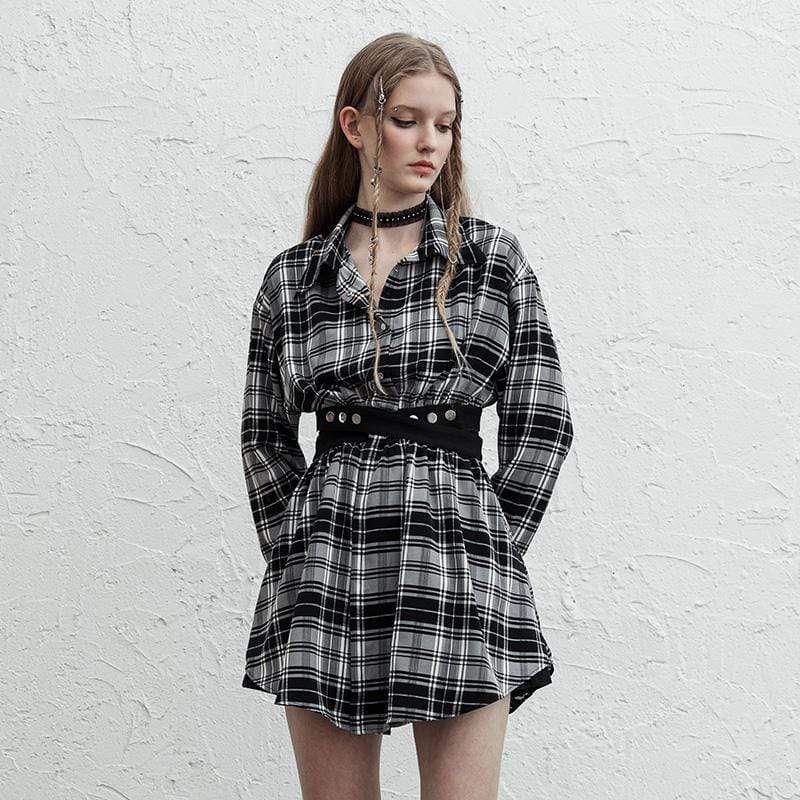 Party
Formal events and dinners should be simple and generous. When choosing a dress, a black gothic dress can perfectly show your elegance and generosity. You can choose a maxi dress with a deep V-neck or off-should collar. The multi-layered lace dress will make you look very dignified and elegant. If you are worried that the neck looks too monotonous, we can also wear a vintage pearl necklace, which will make you the focus of this event!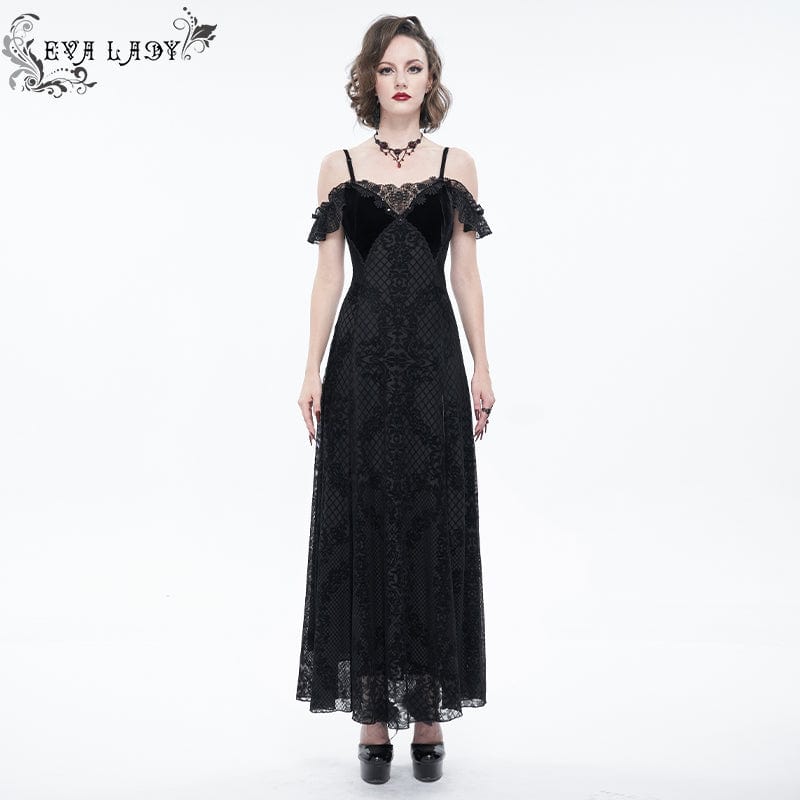 Dating or Having a Vacation
Dating and having a vacation is very joyful, this time wearing a sexy slip dress can not be more appropriate. The gothic slip dress will not only bring a sense of coolness, the main thing is that it can bring a very sexy and comfortable feeling. If your arms are plump, you can choose to match a grunge cardigan or cape, it will very shining!
That's all the advice to choose a gothic little black dress today! I hope they will help you. Choose a suitable dress that can give your wardrobe a unique style that will help you stand out from the crowd. If you want to see different designs of punk gothic black little dresses, please sign in to our store. You can get the best experience by purchasing our dresses with your favorite design and color at a reasonable price.