How To Style Gothic Punk Boots
When winter comes, will you be caught in the trouble of wearing thick sweaters or coats with different styles of Chunky Shoes? How to wear them comfortably and stylishly? Punk Design is here to show you how to use your boots perfectly to be a fashionista.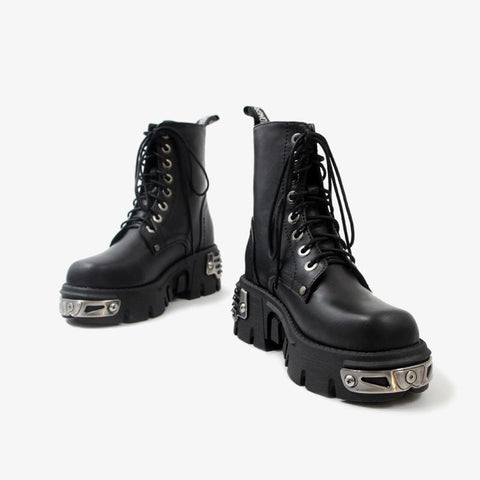 Gothic Punk Shoes are usually thick-soled designs that visually lift you without the difficulty of walking like high-heeled shoes. At the same time, it has more chain and buckle designs than other styles of boots, which is very bright! So let's take a look at how to match different styles of Gothic boots now!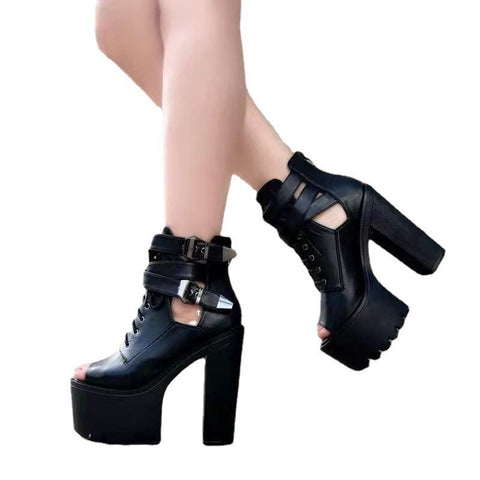 Gothic Punk Chunky Sneakers
Chunky Sneakers are most likely to pair with a casual outfit since they are quite casual shoes. So it works great with a vintage T-shirt and straight jeans or cargo pants. You can also choose a pair of plaid trousers to match the back chunky sneakers. These pants go with everything even though they're plaid like they're neutral. It's a pattern so I love that and the printed vintage T-shirt is just super chic. When the weather is colder, it is a good choice to change your T-shirt into a sweater or hoodie. This kind of outfit is very casual and comfortable whether you are shopping or going on a picnic.
Gothic Punk Platform Heeled Loafers
Chunky-heeled loafers are the favorite of many fashionistas because they're very feminine from schoolgirl to a girl. I referenced that by wearing them with some tiny white socks, matching short cardigans, or high-waisted pleated skirts. It is full of a youthful feel! If you want something feminine, it is as simple as swapping the short skirt for a slim-fitted long skirt. At the same time, it can also be matched with Gothic-style hair accessories or added in some flare with the brown zebra bag which will make the whole look more pretty neutral, and eye-catching.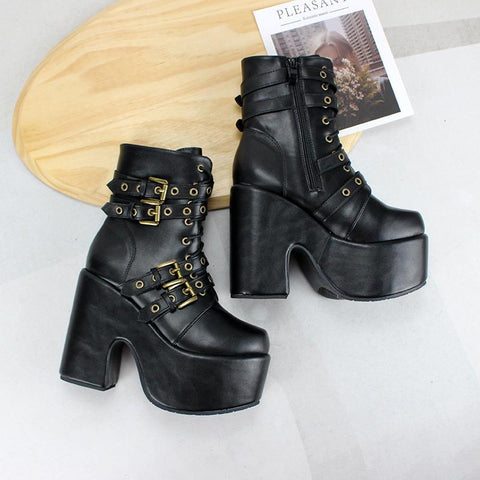 Gothic Punk Platform Chelsea Boots
Chelsea Boots is a very classic boot, I believe that most girls have a pair of black Chelsea boots at home. So I had to show you the take on Chelsea boots which is wearing one with a thick platform that just makes them look a whole lot cooler. Punk Platform Chelsea Boots is very much a different vibe so it can go for this little Black slit dress with a little roll neck. Then if you want to brighten up the outfit a bit, add a Gothic necklace around the neck.
When you were going out for dinner, going for like a nice coffee date or something where you needed to look a little bit more formal, then put on a woolen dovetail coat and a small handbag. It is a smart casual look and feels not too dressy. You could change the coat depending on the season and style that you want. The all-black with the cream outerwear and accessories works really nicely because it just brings the outfit a little bit brighter but still keeps it that kind of dark look.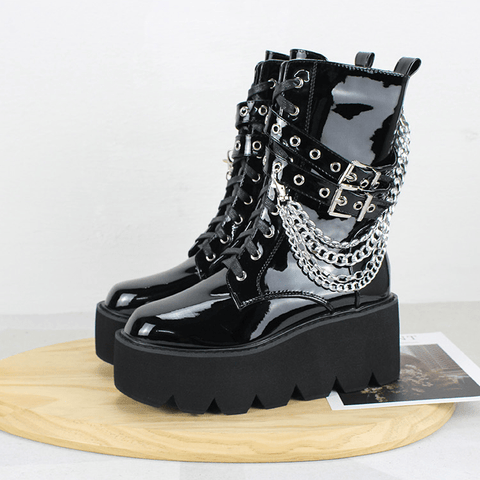 Gothic Punk Platform Martin Boots
Gothic Punk Style Platform Martin Boots are available in a variety of designs, ranging from patent leather or faux leather in terms of material. They have high cut or low cut, and also have zippers added to the straps for easy on and off. Dark elements such as chains or rivets will be added to the design. If you think a pair of black boots is too dull, you can also replace the black shoelaces with colored ones. The contrasting effect will make the punk platform boots look shining. Today Punk Design will share several outfits with black martin boots, let's take a look!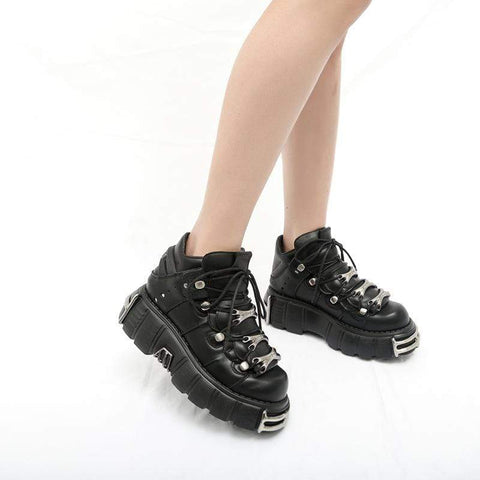 How to Style Gothic Punk Boots with Long Coats
All black outfit feels very dark and cool. Dress up low-cut lace-up black martin boots with a long naked coat or long black tailored coats, they look gorgeous! They're a great way to just add so much to an outfit by being simply a long black coat and got a speckled little sweater under it. You can get some tailored trousers on and match a little bucket bag. This whole outfit is suitable for work because it gives that kind of laid-back chic style so you could wear this to the office. Obviously, not all platform boots are suitable for the office, you can also choose a pair of Taylor pants to get a nice classic outfit with a lace shirt. This will make you look more businesslike.
How to Style Gothic Punk Boots with Sports Suits
After talking about what to wear to work, let's take a look at the off-duty vibe. Can black platform boots be paired with sports suits? The answer is of course! Choose a really neutral lounge set underneath like a slim fitted sportswear with the neutral hat and then have gone for this giant oversized aviator jacket with a little waist bag and the Punk black boots. The set is actually from pretty little things so it like a laid-back vibe. It gives that kind of easy and comfortable style if you're going to the shops or this would be good for like a little kind of coffee day or morning breakfast outfit.
How to Style Gothic Punk Boots with Black Leggings
When I was browsing some fashionistas' outfits and thought it such a good idea that just got the trench coat on here which is like a nice classic fit and very easy to wear, then underneath you can just pop on a white blazer so it's like a little bit of a tone. This outfit can keep warm and at the same time has a layered feeling. At this time, it is very chic to choose a pair of Gothic black leggings and a pair of high cuff martin black boots for the bottom. You can choose a sweater or a simple T-shirt inside the suit jacket. If it is matched with a shirt, the outfit will be too mixed. It just looks kind of chic and stylish without actually being too much faff like it's a very simple outfit to put together.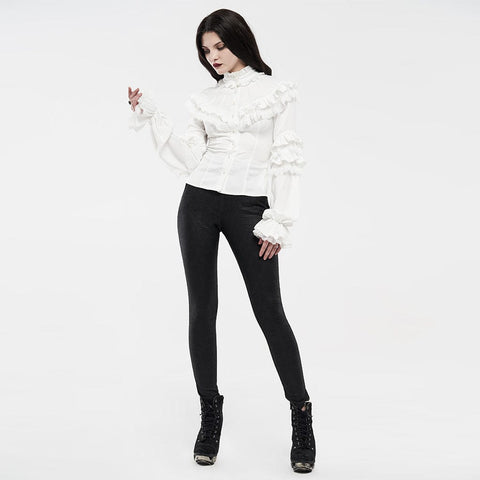 How to Style Gothic Punk Boots with Stripe Sweaters
Stripe sweaters are a really good way to keep the monochromatic outfit. And gone for faux leather leggings on your legs because these were a really classic way to show you a different variation of styling the Gothic black boots. Add a baggy woolen coat and you're done can create an oversized vibe. But I think they also look really nice just with the faux leather leggings and they just kind of elongate the leg a little bit. The platform boots look really chunky as well with like skinnier leg pants when this is obviously skin tight versus like the wider straight leg vibes. It is a kind of classic outfit for every day!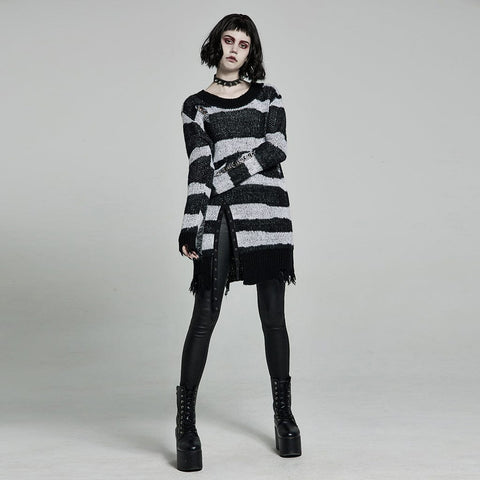 How to Style Gothic Punk Boots with Jeans
It is this very classic and simple kind of look so I have just gone for something really easy with no fuss. Choose classic blue denim pants because it is just going quite well with the faux leather black jacket of the outfit. Under the jacket, you can choose a long-sleeved printed crop top, which will make your legs look more slender. Something that was quite simply oversized thrown on and just kind of adding to the dark tones because of the blue denim pants but also just like giving it a little bit of lightning as well and then coat so honestly the easiest outfit. But trying to get away from the all-black tones is quite easy to put with the docks because they're quite a heavy color and heavy chunky shoes.
How to Style Gothic Punk Boots with Maxi Dress
Finally, the combination of Punk black boots is definitely a favorite of lazy girls. Pick up a long sweater or maxi dress and pair it with a pair of lace stockings. You can probably just chuck on a long coat or a Gothic cloak over the top if you were to go out anywhere that needed a coat. Long Sweaters are really easy to dress down with a knitted hat. It is a very cute look. If you find this a bit drab then add one baguette bag or some accessories.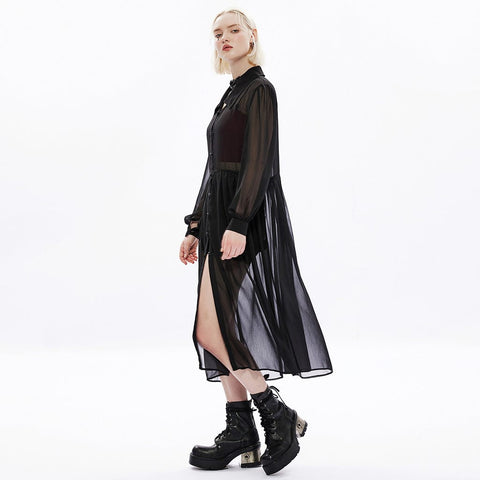 That's all for today's Gothic Punk platform boots outfit suggestions. Hope you enjoyed browsing a few ways that we have been styling the Gothic black boots. If you are interested in browsing more Gothic Punk fashion content for Punk Design be sure to check out our site. Many people think all the time that they think platform black boots are either too short or too tall to wear platform boots which is just crazy. Everyone deserves to wear platforms no matter their height they just make you feel powerful. And they really look good with almost every outfit as you can see.
Gothic Punk boots can be paired with any outfit as long as you like. At the same time, Punk Design has prepared a variety of Gothic Punk Clothing for you. Our store will give your wardrobe a unique style that will help you stand out from the crowd. Welcome to shop from your favorite design and get the best shopping experience! Sign in to avail of discounts on different categories!