9 Latest Dresses From 2022 Punk Rave Winter Collection
A black dress is an essential part of a women's wardrobe and can be worn for a variety of occasions. The new collection includes elegant dresses, loose and comfortable straight dresses, and slip dresses with a little bit of sexiness. Most of them are slim-fit uppers, which can be a good highlight of the figure and a-line draped hem for the design. Please don't miss them!
Women's Grunge V-neck Bear Printed Loose Shirt Dress
1. Loose mid-length silhouette.
2. Wide plunging neckline.
3. Sheer elastic mesh splice cuffs.
4. Both sides of the body have a drawstring.
5. Big bear print on the front.
Fabric: soft mottled distressed knitted fabric.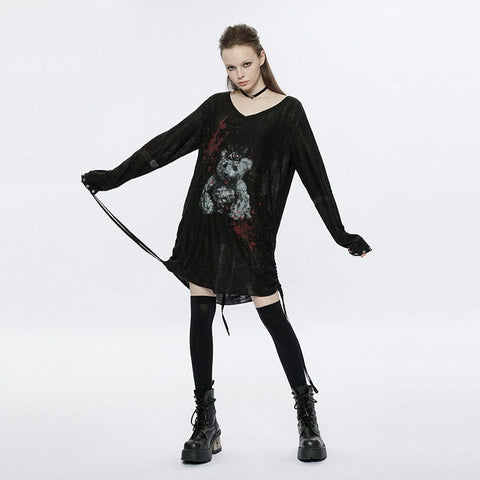 OPT-821
Women's Punk Stand Collar Love Heart Cutout Black Little Dress
1. Sexy and slim-fit silhouette.
2. Heart-shaped cutout at the neckline.
3. Puff sleeves.
4. Slit design on back neck for easy put on and take off hand-sewn jewel button.
5. Cambered waistline, draped hem.
Fabric: comfortable, smooth, and elastic fabric.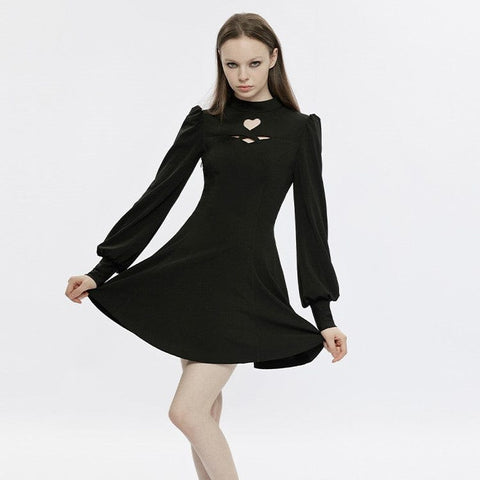 OPQ-1276
 Women's Grunge Doll Collar Plaid Dress with Tie
1. A-line silhouette.
2. Sailor collar with detachable dark small tie.
3. The collar and tie have glossy faux leather strips.
4. Puff Sleeves.
Fabric:
1.Plaid fabric splice chiffon to create a sense of dark punk.
2.Plaid pattern splice twill woven fabric.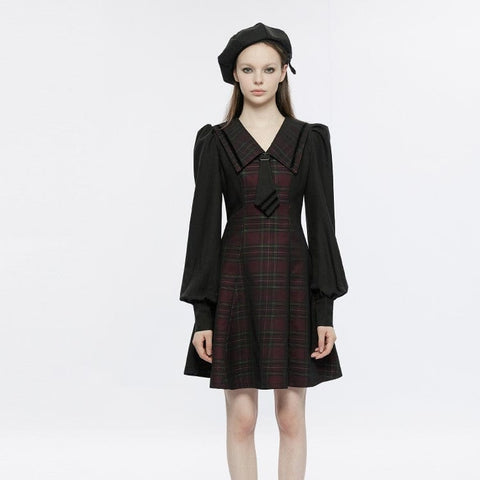 OPQ-1326
 Women's Lolita Lace Hem Velvet Dress with Lace Collar
1. Slim fit and straight long dress.
2. A-line long dress with double color lace.
3.Puff sleeves.
4. Round neckline with strappy detachable lace collar.
Fabric: soft and elastic velvet fabric.
(Note that the light detachable collar should be washed separately from black dress)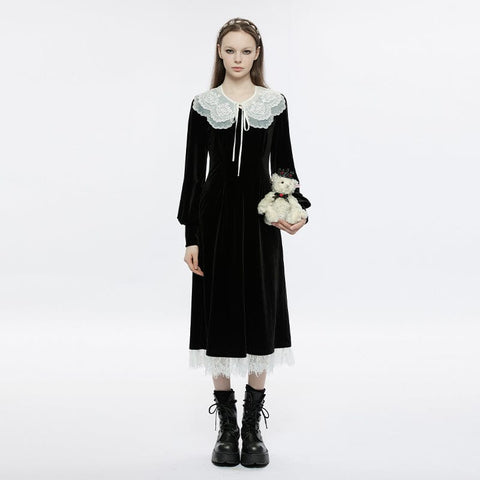 OPQ-1320
Women's Punk Square Collar Flare Sleeved Black Little Dress 
1. Slim fit and irregular draped hem.
2. Gothic flared sleeve with triangle lace spliced at the cuff.
3. The square skirt hem is spliced with stagger lace, adding a sense of layer.
4. "U"-shaped neckline with drop shape of decorative cross straps.
Fabric:
1. Soft and elastic distressed knitted fabric.
2. Soft gothic vertical stripe lace.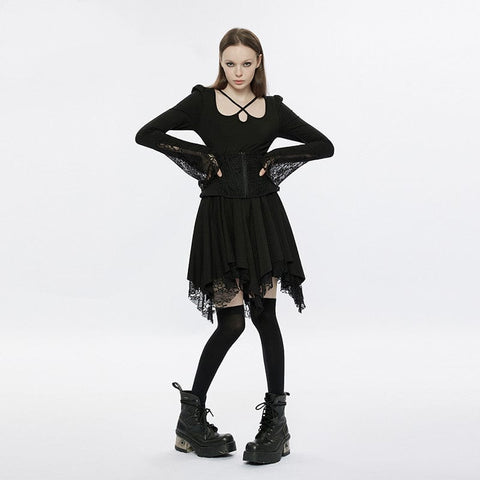 OPQ-1335
 Women's Punk Circuit Printed Straight Dress with Belt
1. Loose half sleeves dress.
2. Original design luminous printing of circuit.
3. Punk Rave metal nameplate is sewn in the front.
4. Black eyelets at the waist with removable faux leather wax ropes.
Fabric: comfortable cotton micro elastic knitted fabric.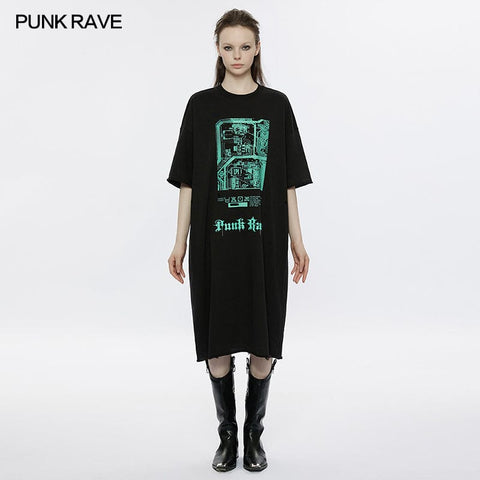 OPQ-1334
 Women's Vintage Punk Black Little Dress
1.Slim fit and circular arc shape in the chest design.
2.Arc waist line segmentation and drawstring draped hem.
3. Adjustable shoulder straps.
4. Punk plaid fabric stitched inside.
Fabric: comfortable woven fabric.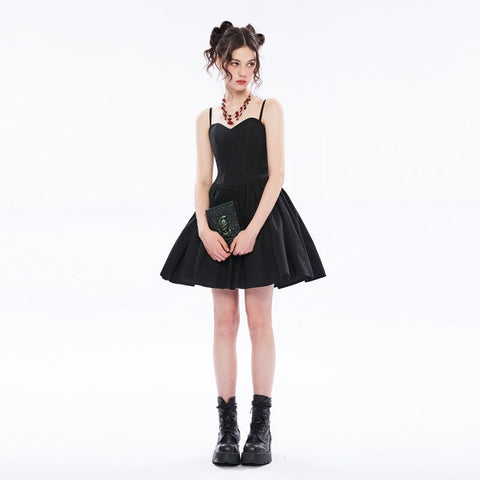 PQ-1272
 Women's Punk Jacquard Draped Suspender Dress
1. A-line draped hem.
2. Wide edge straps and hand stitch button adjustment.
4. Dark rose jacquard pattern fabric.
Fabric: stiffened cotton rose woven fabric.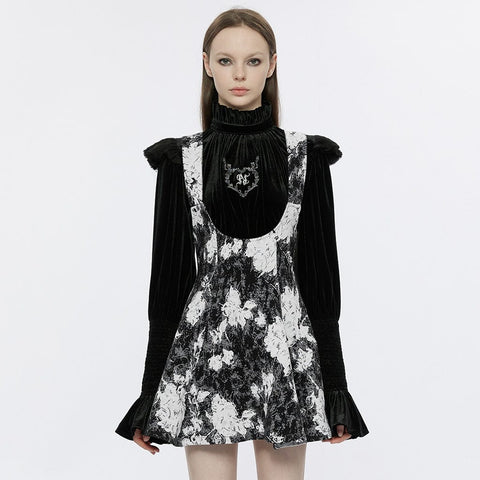 OPQ-1332
 Women's Gothic Gradient Color Velvet Slip Dress
1. A-line draped hem.
2. Chest arc segmentation and pleating to modify the chest shape.
3. Original design dark thorn rose and cross embroidery at the waist.
4. Color gradient at skirt hem.
5. The wide shoulder straps are crossed at the back to prevent falling off.
6. Available in two colors.
Fabric: soft elastic velvet fabric.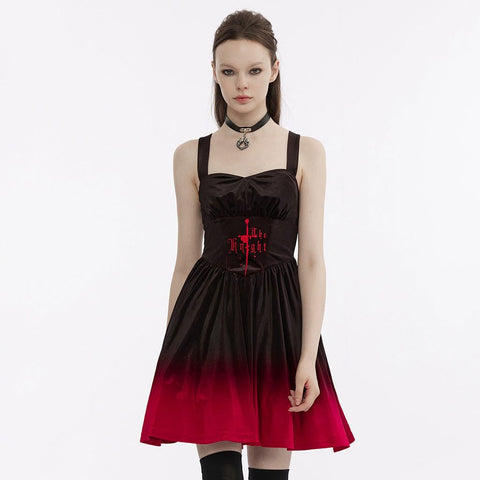 OPQ-1339 
All dresses are made of very comfortable and breathable fabrics. It makes you feel very comfortable while wearing fashionable clothes. If you want more punk gothic designs and clothing, please sign in to our store to get more costumes with excellent quality and wonderful designs!