4 Latest Punk Rave Men's Waistcoats&Vests
Punk Rave has long been synonymous with alternative fashion, and their collection of men's waistcoats and vests is a testament to their commitment to unique and edgy style. Punk Rave men's waistcoats and vests are characterized by their bold, unconventional designs. The designs often draw inspiration from punk, gothic, and steampunk subcultures, resulting in pieces that are both darkly alluring and undeniably fashionable. These waistcoats and vests offer a captivating blend of rebellion and sophistication, making them a must-have for those who want to stand out.
The vest is made of rubberized suede and Faux leather. Different fabrics are spliced into rich structures. Exquisite buttons on the front for closure.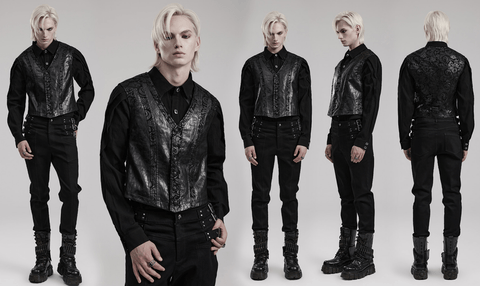 This waistcoat is made of non-elastic jacquard woven fabric. Velvet neckline and pocket edge to rich texture. There are gemstone snap buttons on the front and an adjustment loop at the back.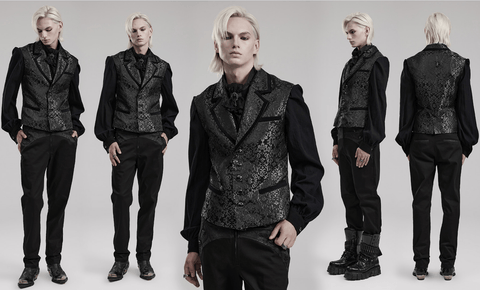 This vest is made of non-elastic gorgeous jacquard woven fabric spliced with rubberized material. Small stand collar combined wide shoulder is handsome and stylish. Creative overlapping splicing on both sides and the use of large eyelets create a rich visual effect.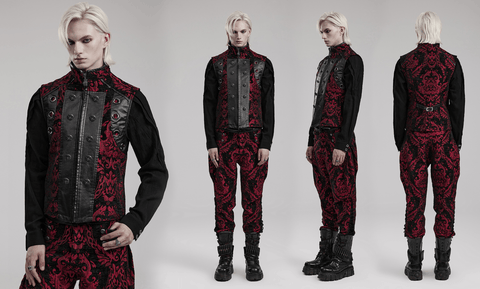 The vest is made of micro elastic rubberized and mesh fabric. This waistcoat is designed as a single shirt collar with a four-button fastening. Metal semicircle rivets emphasize the shoulder details. It has adjustable stylish faux leather loops.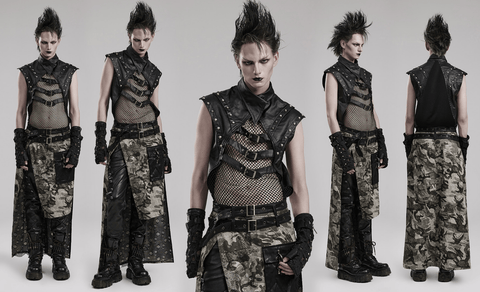 Punk Rave men's waistcoats and vests are a symbol of self-expression and individuality. With their daring designs, premium materials, and attention to detail, they offer a captivating blend of rebellion and elegance that's sure to turn heads wherever you go. Embrace your inner rebel and make a fashion statement with these distinctive garments from Punk Rave. Sign in to our store and explore the extensive range of alternative clothing options.