10 Latest Punk Rave Men's Gothic Punk Trousers
Step into the alternative fashion world with Punk Rave's Men's Gothic Punk Trousers, where dark aesthetics and rebellious style converge to create a statement piece that captures the essence of punk and gothic subcultures. Crafted with meticulous attention to detail, Punk Rave Men's Gothic Punk Trousers feature a fusion of punk and gothic elements that bring a touch of darkness to your attire. These trousers typically feature a slim or skinny fit, accentuating your silhouette while maintaining an air of rebellion. With innovative design elements like asymmetrical cuts, faux leather patches, and distressed finishes, these trousers exude a rugged and unconventional charm perfect for those who dare to be different.
These pants are slim-fitted, straight-legged. There are practical pockets on the front and back. The pants have symmetrical punk decorative Straps around the waist, which are eye-catching.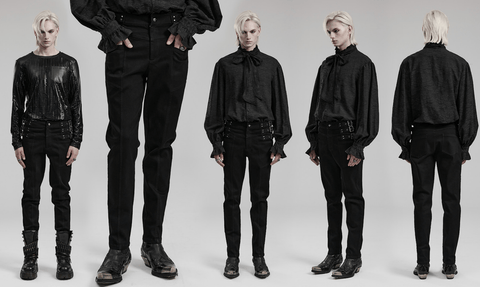 The pants are made of jacquard and twill fabric. The waist of the pants has a personalized wrapped decal decoration. The pants have delicate hand-stitched buttons to add detail.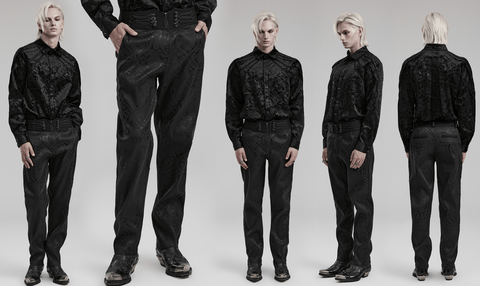 The front of the pants has a ribbon loop element and a delicate decoration of hand-stitched buttons. There are side seam pockets on the pants. Front zipper for closure.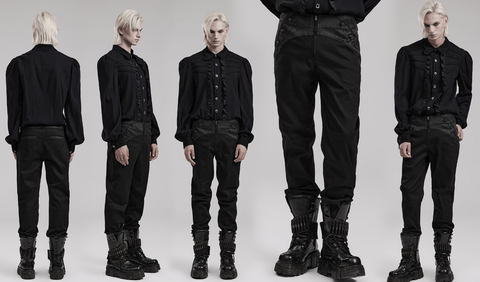 The pants are made of non-elastic camouflage printed woven fabric and perforated mesh. Symmetrical and eye-catching large eyelet webbing decorative loops are on the pants. Elastic pants openings can be relaxed and windproof.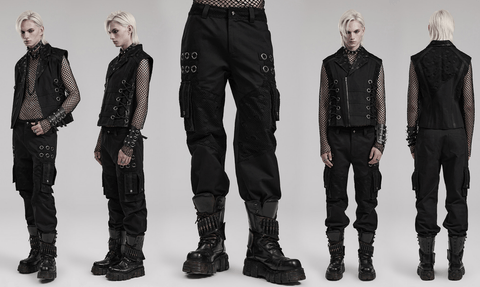 The pants are made of suede with random pattern leather. There is a decorative loop at the back with webbings and buttons on both sides of the thighs to create a personalized punk. Practical front slit pockets and back patch pockets.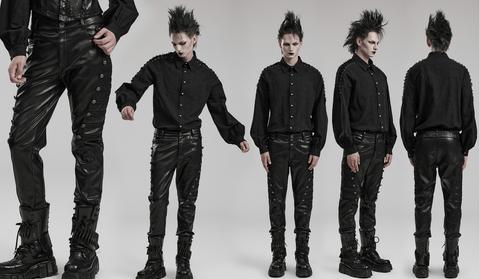 The trousers are made of decayed stripe fabric. Elastic waist with straps inside to adjust. There are eyelet webbings on two sides. These trousers are loose-fitting and wide-legged.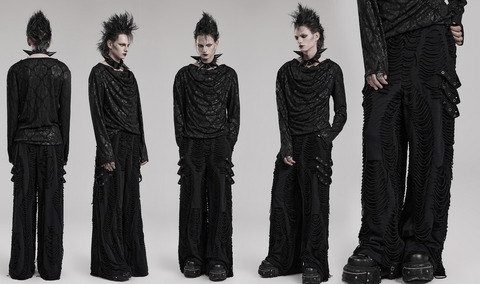 The pants are made of wrinkled texture faux leather. Metal spikes on both sides add a punk touch. These pants are a loose version and comfortable to wear.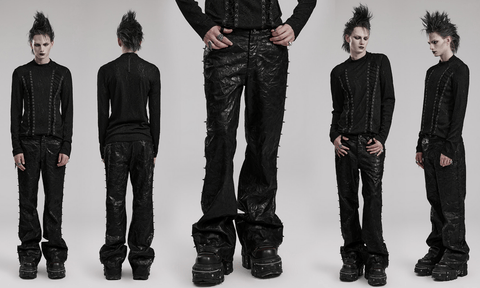 The pants are made of stretch-twill and distressed mesh. Distinctive skull printing is on the trousers. Removable decorative tabs at the knees.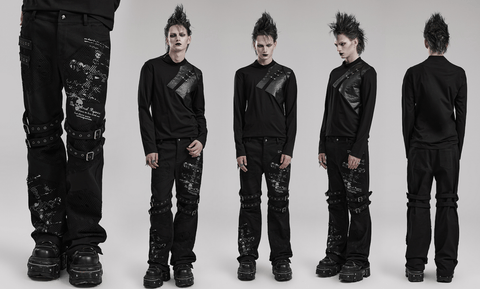 The pants are made of elastic faux leather fabric. The geometric division is on the sides of the pants. Trouser loops are adjustable. The pants have pockets on the front and back.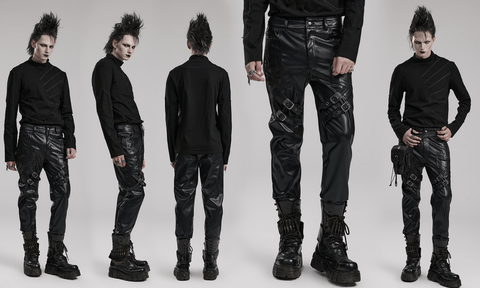 The trousers are made of stretch twill and crackled faux leather fabric. There are detachable faux leather tabs at the legs. The front side of the bag is decorated with cotton ribbon and metal nails, and the combination of virtual and solid mesh cloth has a more spatial sense. Loose and wide leg style.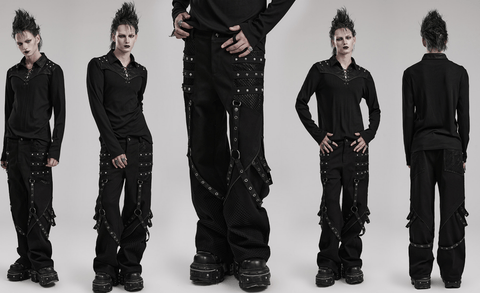 These trousers are a true embodiment of edgy fashion, designed to make you stand out from the crowd and express your unique personality with an unmistakable flair. So, if you're ready to unleash your inner rebel, these trousers are your ticket to the world of alternative fashion. Sign in to our store and explore the extensive range of alternative clothing options.