3 Latest Punk Rave Men's Gothic Cloaks
Step into the realm of alternative fashion with Punk Rave's men's gothic cloaks, where darkness meets elegance to create a distinctive and daring style statement. These cloaks are more than just garments. They are expressions of a unique subculture that has captivated fashion enthusiasts and rebels alike. Punk Rave has perfected the art of infusing gothic aesthetics into their clothing, and their men's cloaks are no exception. Intricate detailing, ornate patterns, and dark, dramatic colors set them apart as true pieces of wearable art.
The cloak is made of non-elastic, thick faux cashmere. It has a 3D bat collar. There are openings for hands. There is an exquisite buckle in the front collar and luxurious lace on the placket.
The cloak is made of soft and comfortable plush fabric. It has a detachable warm fur collar. Symmetrical decorative frogs with tassels are on the cloak. Straps inside to fix the cloak.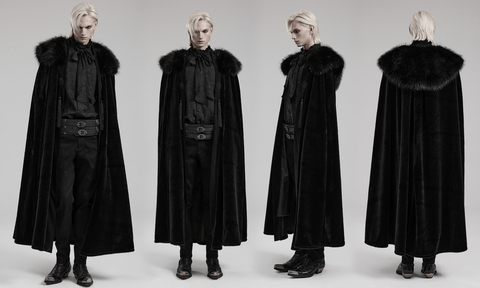 This cloak has a large ruffled stand collar and shaped material along the edge. Irregular plush splicing gives a powerful aura. A full row of engraved vintage four-in-one buttons decorate the front and center hangings, making the hangings completely removable and allowing for more moldable shapes.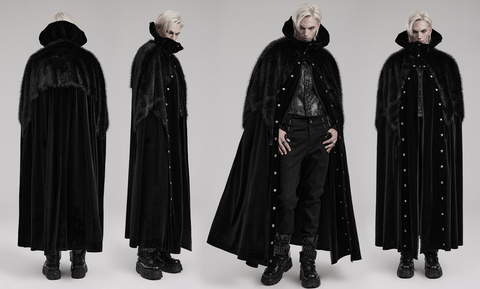 Punk Rave men's gothic cloaks are a fusion of dark elegance and rebellion. They embody the spirit of gothic subculture and provide a canvas for self-expression. With their exceptional quality, versatile designs, and attention to detail, these cloaks are a must-have for those who dare to venture into the shadows of alternative fashion. Sign in to our store and explore the extensive range of alternative clothing options.