5 Latest Punk Rave Men's Gothic Punk Coats&Jackets
Punk Rave men's coats and jackets are a rebellious and edgy fusion of fashion and subculture that embodies the spirit of punk and gothic aesthetics. With their bold designs, high-quality materials, and attention to detail, Punk Rave has become a go-to brand for those looking to make a statement with their outerwear. Their men's coats and jackets are characterized by daring and unique designs that push boundaries. Expect to find asymmetrical cuts, intricate stitching, and unconventional silhouettes that set you apart from the crowd.
This cloak is made of jacquard velvet fabric. Jacquard's splicing highlights the overall structure outline. Distinctive sharp shoulders make the silhouette more visual impact. There are eyelets and drawstring trim at the waist.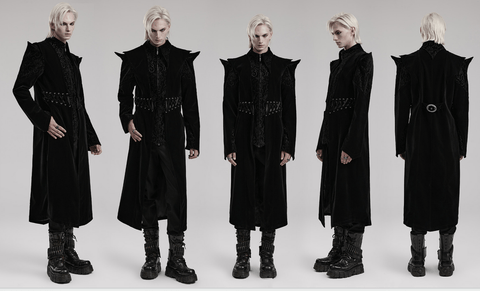 The primary material uses tattered pressurized glue knitted material, full of dark and decadent feeling. The hem is irregular and has a sharp angle shape. The back center rear pleated wide-brimmed ribbon extends to the brim. Front collar with eyelet on both sides plus small metal barbell and rope design; the side has pockets.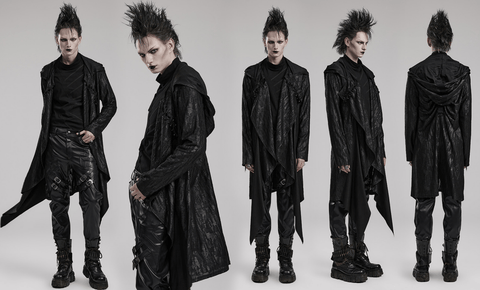 This coat is made of elastic skull pattern rubberized material. There are two patch pockets on the chest. It has snap buttons for easy taking on and off.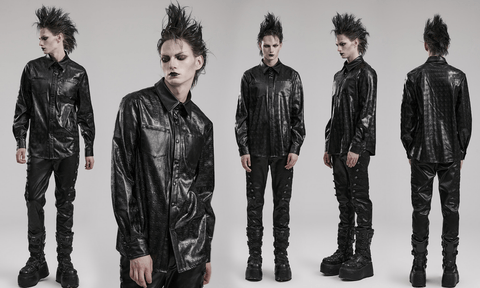 It has an asymmetric high-stand collar and hem. Eyelet drawstring designs are on both sides of the sleeves. Distinctive numerous metal rivets and faux leather loops highlight personality.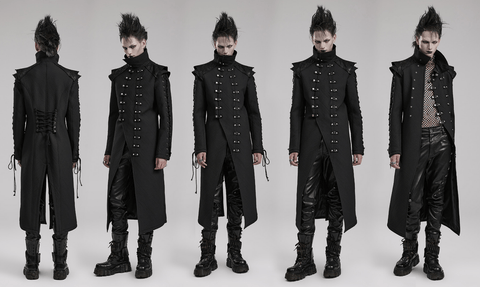 This jacket is made of textured faux leather fabric. It has fascinated distinctive sharp shoulders. The coat has a zipper on the front for closure.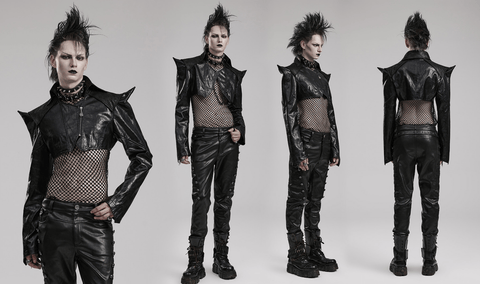 Punk Rave men's coats and jackets are a fusion of punk and gothic influences that bring together unique designs, superior quality, and a rebellious spirit. If you want to make a striking fashion statement and embrace a subversive style, Punk Rave's outerwear is the perfect choice. If you want more designs, please sign in to our store for more costumes with excellent quality and fascinating designs!