20 Latest Punk Rave Halloween Accessories
Elevate your Halloween style with Punk Rave's exclusive Halloween accessories collection. Embrace the dark and edgy side of the holiday with a range of accessories that blend punk aesthetics with hauntingly chic elements. Punk Rave's Halloween accessories are designed for those who appreciate a hint of gothic elegance. Whether you're planning a wickedly cool costume or looking to add a touch of gothic glamour to your ensemble, Punk Rave has you covered.
It is made of faux leather. There is a rubber band at the finger root, which can be worn flexibly. Leather stitching at the wrist with pagoda pointed cone nail. Chains connect the wrist and fingers.Circumference:25cm/9.8"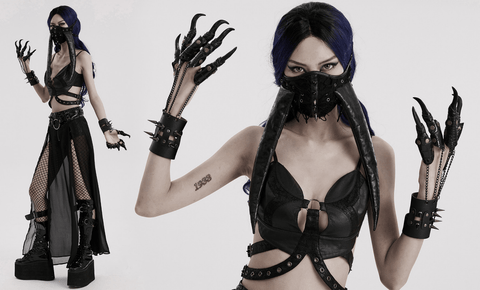 This mask is made of faux leather and lace. It is stacked with bat-shaped lace in the front, embellished with black gemstone spikes. Handsome layered small wings are on both sides. Detachable face tassel chain. An adjustable elastic band and a buckle at the back make it easy to wear. Strap Length:14cm/5.5"; Height:16cm/6.3"; Width:41cm/16.1"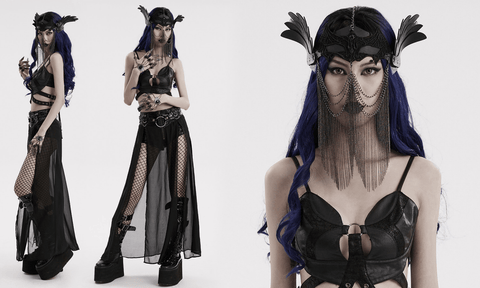 This mask is made of faux leather. Exquisite double chains are under the eyes. The mask was decorated with metal nails. It has an adjustable elastic rope for convenience. Strap Length:35cm/13.8"; Height:18.5cm/7.3"; Width:21.5cm/8.5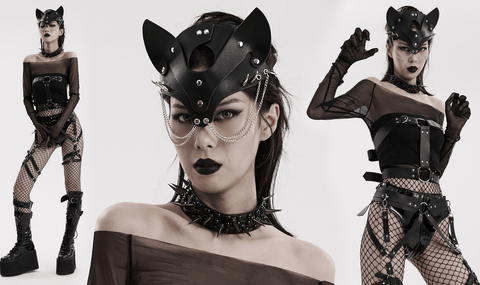 This choker is made of faux leather. 3D shiny dot rivets are covered. Cool tapered nails enrich the design level. There is an adjustable snap button on the back. Length:44.5 cm/17.5"; Width:3.5cm/1.4"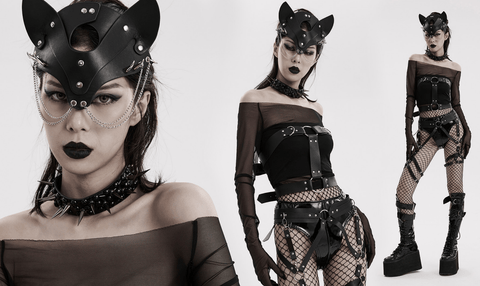 It is made of faux leather. Asymmetrical D-shaped buckle decoration is on the front chest. There are adjustable straps at the back waist.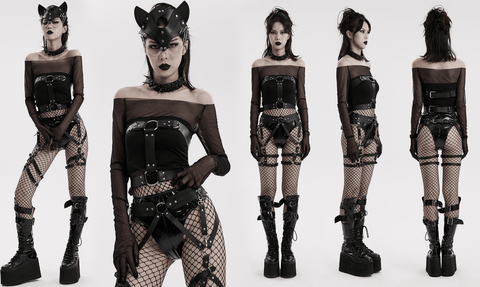 Adjustable leather loops are at the waist and thighs. There are sexy inverted triangular straps on the sides— detachable clasp for a variety of wear.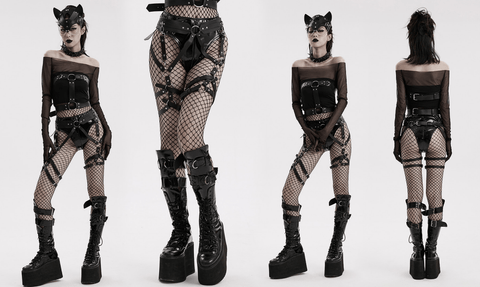 Double shoulder straps with adjustable loops at the waist side. There are multiple metal rings decoration on both sides and back. The shoulder elastic band can be adjusted for tightness.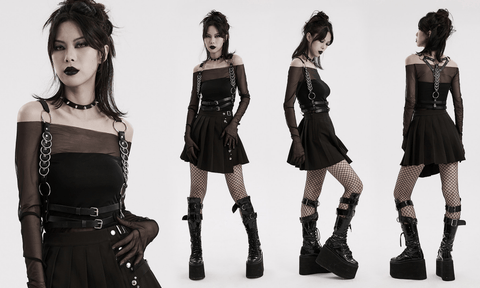 It is made of faux leather. Sexy halter-neck hollowed-out bra with an adjustable loop at the back and a rope at the waist for tightening. The bra is connected to the core through a clasp and can be disassembled. The bra can be worn separately.
This harness is made of faux feather and leather. Vivid demon feather wings are on the back. It has stacked and detachable multi-level leather wings and chains. Wingspan Length:75cm/29.5"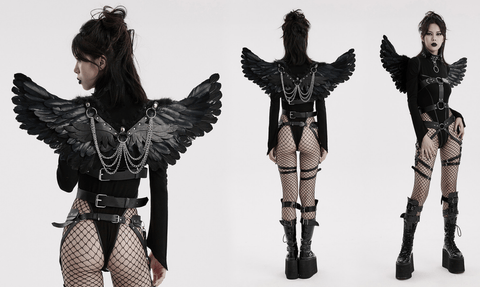 This mask is made of faux feathers. The handsome and personalized half-mask can modify the shape of the face. Metal cone rivets are decorated on the front. There are two elastic adjustment tabs for convenience.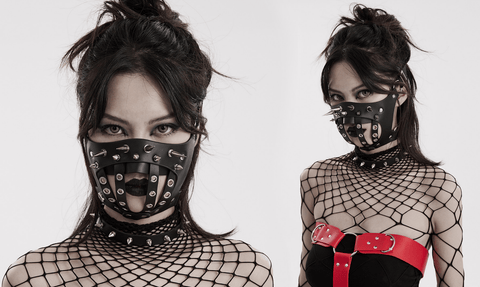 It is made of mesh and faux wool. Full-face breathable mesh coverage leaves room for mouth. 3D Mohawk faux wool from top to butt. There are two ropes at the back for convenience. Hood Height:26cm/10.2"; Hood Width:28cm/11.0"; Cap Hem:33cm/13.0"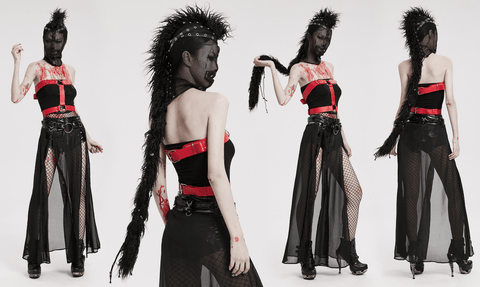 Faux feathers are full of a dark, decadent atmosphere. The webbing extending from both sides of the faux feather straps is knotted in the middle of the back. The feather element brings the gloomy and mysterious features into full play. Lacing Length:54cm/21.3"; Neck Width:70cm/27.6"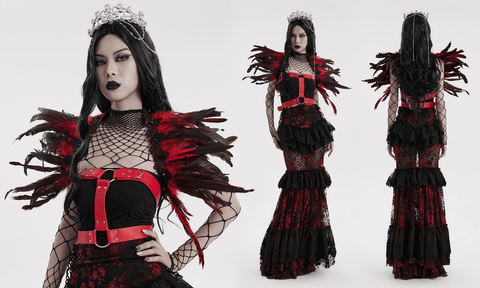 The crown is made of alloy and glass rhinestones. It consists of multiple skulls of different sizes. The two hanging chains are full of goddess temperament. Length:38cm/15.0"; Height:6.8cm/2.7"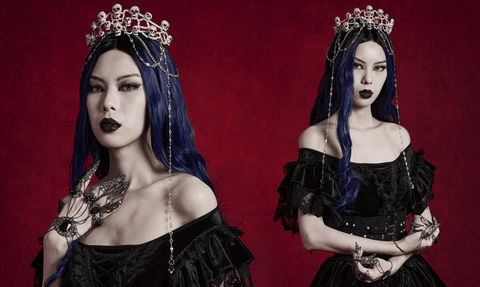 Sexy and mysterious lace eye mask with a coffin-shaped decorative buckle. 3D handmade plastic pteris is on the forehead. Vibrant sequin tassels are below the mask. Height:40cm/15.8"; Width:22cm/8.7"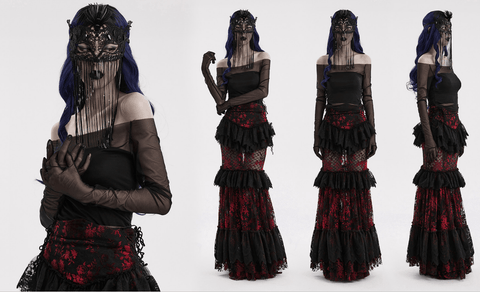 The mask is made of faux leather and lace. It is sexy and cute style. 3D rabbit ears shape and lace stitching around the eyes. Double layer straps on the back for easy wearing. Height:35cm/13.8"; Width:22cm/8.7"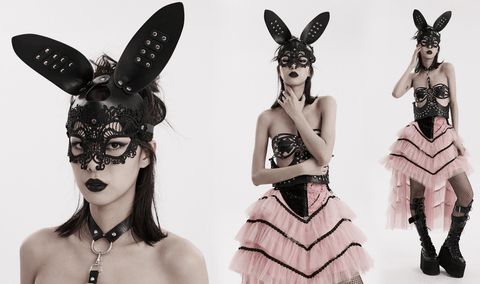 It is a symmetrical devil wings shape. Beautiful handmade fabric flowers are around the ears. There is delicate lace on the head. Headband style for convenience. Height:38cm/15.0"; Width:57cm/22.4"; Length:40cm/15.8"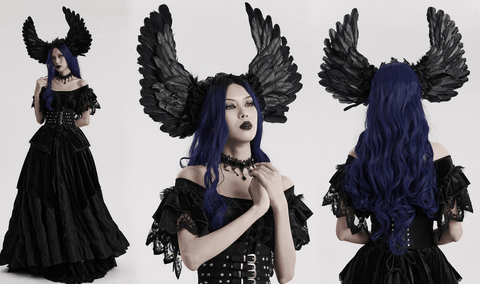 It is made of plastic and woven fabric. There are two demon horns on the head. Acrylic inverted triangular decorative pieces are at the front and back. Luxury glitter flowers are on both sides. Height:29.5cm/11.6"; Length:38cm/15.0"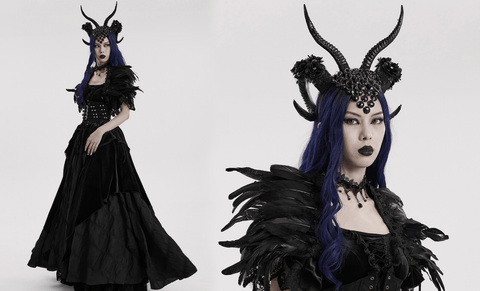 This bag is made of faux leather. It has two practical pockets. The loop is adjustable. Pocket Length:10.5cm/4.1"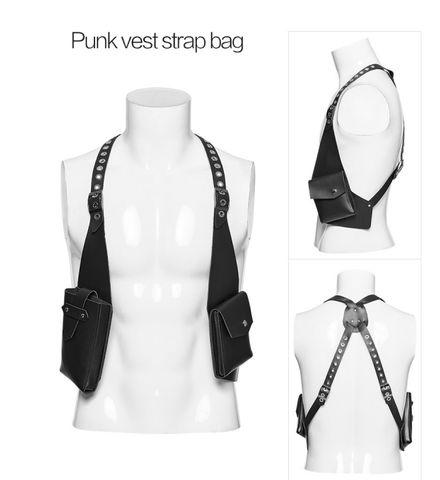 It is made of an antique silver aluminum chain. Heavyweight chain highlights male strength. Elastic adjustable straps with buckles are on the front.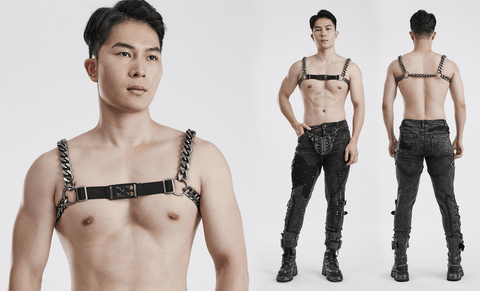 It is made of faux leather. Double-layered staggered and adjustable loops show a perfect body shape. Multiple belts on the back are connected by metal rings to enrich the structural design.
Punk Rave Halloween accessories are a way to express your individuality and embrace the spirit of Halloween throughout the year. Whether you're a fan of goth, punk, or a bit of both, Punk Rave has the perfect accessories to help you achieve a hauntingly stylish look that's bound to turn heads and make a lasting impression. Sign in to our store and explore the extensive range of alternative clothing options.