9 Latest Tops From 2022 Punk Rave Winter Collection
This tops' collection includes crop tops, bustiers, rompers, and sweaters. The bustiers are made of a soft and elastic velvet fabric, which is the perfect choice for going to the disco. The short-sleeved sweater with oversleeves and the fluffy design make you look like a sweet girl. There are many more designs for you to choose from, so don't miss it!
Women's Gothic Off-Shoulder Floral Chiffon Top
1. Slim fit;
2. Plunging ruffled design;
3. V-neck drawstring, adjustable length;
4. Shoulder with a rubber band can become an off-shoulder;
5. The whole piece of rubber bands on the back for easy on and off.
Fabric: sheer carved chiffon fabric.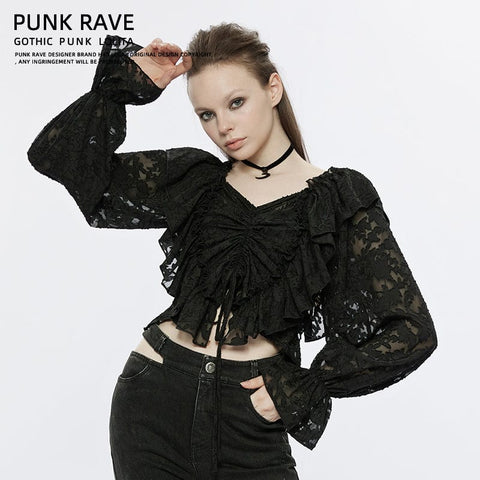 OPT-817
Women's Punk Irregular Sleeved Half-high Collar Romper
1. Slim sexy jumpsuit silhouette;
2. Bright stretch faux leather material stitching;
3. Gothic style pointed sleeves;
4. Body hem with concealed buttons for easy on and off;
5. Available in two colors.
Fabric: soft stretch knitted fabric.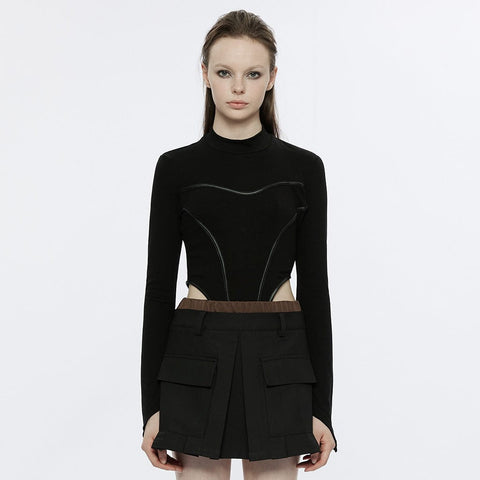 OPT-810
 Women's Punk Double Color Plunging Crop Top
1. Slim fit.
2. Double-color ribbed collar;
3. Plunging neckline;
4. Puff sleeves.
Fabric: soft and mid-thick knitted fabric.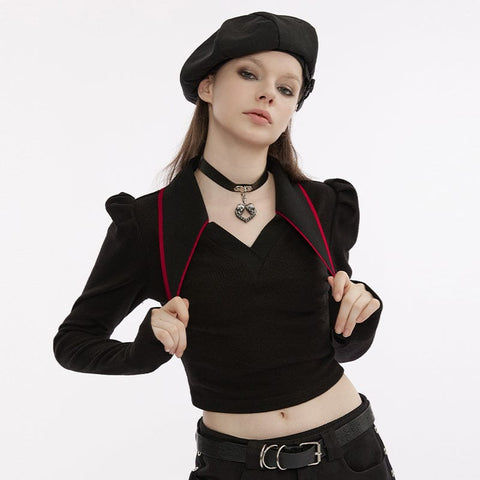 OPT-808
 Women's Punk Flare Sleeved Mesh Top
1. Round neck mock two pieces loose T-shirt;
2. Punk rock style strappy splice bustier;
3. PUNK RAVE metal nameplate sewn in the front.
Fabric: diamond mesh with comfortable twill woven fabric.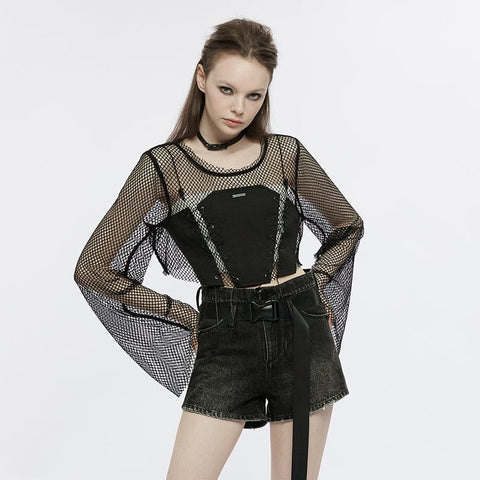 OPT-794
Women's Gothic Strappy Halterneck Embossed Velvet Bustier
1. Halterneck and slim fit silhouette;
2. Plunging hollow out wrap to the back of the strappy design;
3. Adjustable round neck collar.
Fabric: Soft and elastic velvet fabric.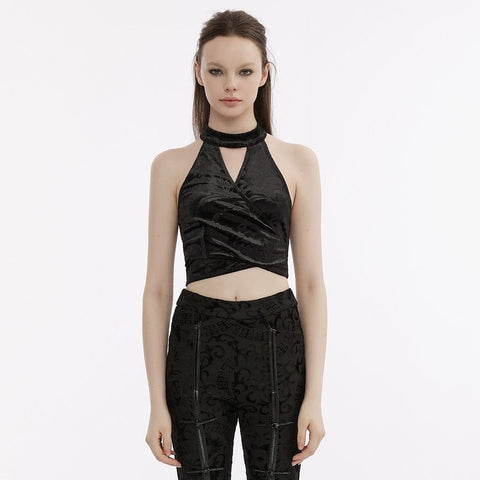 OPT-826
 Women's Gothic Plunging Frog Embossed Velvet Bustier
1. Slim fit and camisole;
2. Chinese oblique placket frog design;
3. Chinese plastic frog decoration at the oblique placket;
4. Adjustable faux leather shoulder strap.
Fabric: soft elastic velvet fabric. 
OPT-827
 Women's Punk Buckles Faux Leather Harness
1. Detachable two-wear harness;
2. The straps wrap to the front and center cross and hexagonal metal buckle adjustment;
3. Customized PUNK RAVE leather logo nameplate fixes the shoulder straps at the back;
4. Detachable ruffles on both sides.
Fabric:
1. Rigid cracked faux leather fabric;
2. Comfortable elastic lining.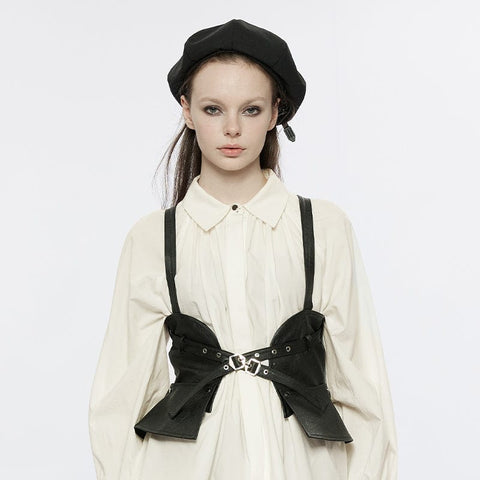 OPS-277
Women's Grunge Stand Collar Cable Knitted Short Sweater
1. Loose pullover silhouette;
2. Customized ripped weave neckline;
3. PUNK RAVE special logo label;
4. Curved short hem;
5. Cable knitted pattern.
Fabric: twisted thick woolen fabric.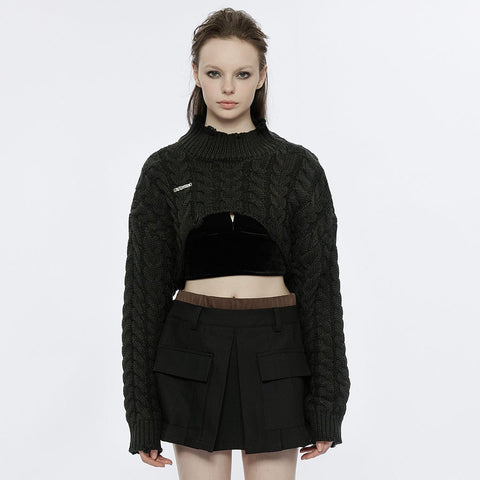 OPM-238
Women's Grunge Skulls Embroidered Fluffy Sweater with Oversleeves
1. Slim fit and short;
2.Cuffs and hemline red split line;
3. Dark cherry skull embroidery;
4. Comes with the same style oversleeves, sleeves cuffs have the hole design.
5. Available in two colors.
Fabric: plush warm faux wool fabric.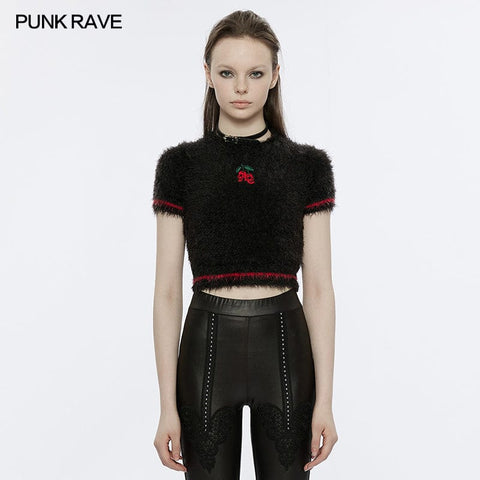 OM-002
The punk gothic tops can be matched with pants, skirts, shorts, etc. Our store also has a lot of designs for pants and punk gothic articles of clothing, please sign in to get the right products!