6 Latest Punk Rave Plus Size Women's Shirts&Sweaters
Are you struggling to find plus-size clothing? Punk Rave plus size women's clothing has new arrivals! Gothic plus-size shirts and sweaters offer a stylish and edgy look for those with a penchant for alternative fashion. These garments are designed to flatter and accentuate the curves of plus-size women while incorporating popular gothic elements. The off-shoulder style adds a touch of allure and femininity, highlighting the collarbones and shoulders. Let's have a look at these fascinating new products!
Made of stretch rose knit and stretch muscle pleated knit;

Large V-neck combined with loose sleeves;

Off-shoulder design;

Symmetrical division of the front, lace-up is only for decoration, drawstring for embellishment;

Lace-up on the front and back can be adjusted.
Made of stretch mesh with stretch batting flocked mesh fabric;

Mesh stitching on the shoulders for a sexy look;

Stretchy cut-out at the patchwork with rubber bands.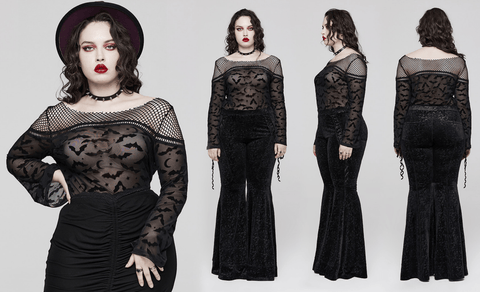 Made of stretch rose knit and stretch stripe knit;

Teardrop stand collar with snap fastener at the back;

Movable piece on the front, which can be effectively adjusted to different body shapes;

Slim fitted silhouette.
Made from stretch mesh patchwork with torn knit fabric;

Loose batwing sleeve mesh T with irregular bottom corners;

Easy to create a relaxed and decadent punk look.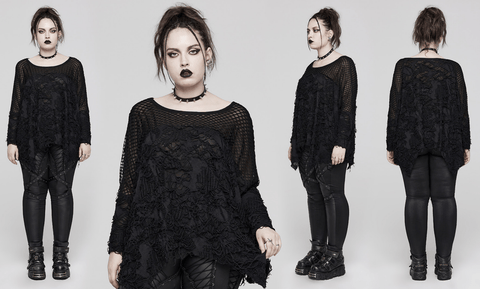 Made from stretch batting flocked mesh;

Semi-high neckline with irregular hemline;

Split drawstring with special and adjustable lace-up on the back.
Made of mohair fabric;

The large round neckline visually flatters the face, and the long length can be used as a dress, making it more versatile;

Dark punk with irregular holes and contrasting color stripes;

Various colors.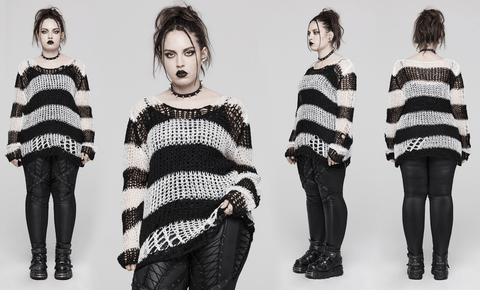 The plus-size aspect ensures that these gothic garments are inclusive and cater to diverse body types. They provide comfort and confidence for those who wish to embrace their style in a gothic fashion. With their combination of off-shoulder cuts, ripped details, irregular hems, and mesh patchwork, these gothic plus-size shirts and sweaters are the ideal choice! Please sign in to our store and add them to your cart!